Issue 63: How Early Decision affects admissions
"It really doesn't matter for us," Lynchburg admissions officer, Riley Haris, says about Early Decision. This week, more discussions w/ an insider on the most competitive majors, paper applications, binding ED contracts, and best pieces of advice. Catch up from our last installment here.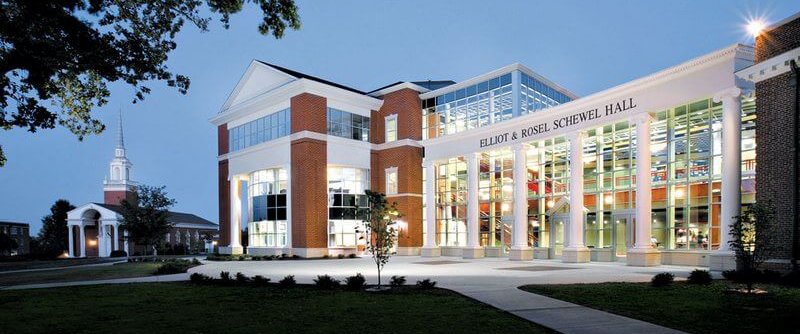 Exclusive Insider Interview: Admissions Counselor, University of Lynchburg
SocratesPost: How long does it take for you to review an application and respond to the applicant?
Riley at Lynchburg: Normally two to three weeks.
SocratesPost: That's pretty fast. You guys also have Early Decision. But how much of a difference does applying early actually make on someone's chances of getting in?
Riley at Lynchburg: It really doesn't matter for us. Sometimes athletes want to use it because once they get in, it's binding, and we can start making the moves for them to come. Which makes things a little easier for them. But even if you apply by the deadline, we're still going to get back to you within two or three weeks. The other thing is with the binding component. We're pretty good about if kids accidentally click boxes, and they don't realize what they're doing. We've had parents call us saying their kids clicked binding, but they don't know what they're doing, and they did that without the parents knowing, and they ask if there is any way to reverse it. Not all schools will do that. A lot of them won't because they might be very strict with the binding component. But we have a little compassion for those situations.
We've had parents call us saying their kids clicked binding, but they don't know what they're doing, and… we have a little compassion for those situations.
SocratesPost: That's really forgiving, especially these days with schools calling each other to check on mutual applicants and rescinding acceptances.
Riley at Lynchburg: Sometimes it's the parents' first kid, too. If the parents didn't go to school and everyone is doing it for the first time, it can be a confusing process. There this idea that everyone's out to snitch on the students, but that doesn't make the process very calming or welcoming or honestly makes them want to deal with anyone at the school. We try to be as welcoming as we can.
SocratesPost: In terms of the programs that you guys offer, which programs are the most competitive?
Riley at Lynchburg: Nursing, biomedical science, and exercise physiology. Our nursing program is not a direct admission, which is because it's so competitive. They have to start as a freshman and declare, and then they complete the nursing prereq courses. After those, they take an exam and are given entrance into the nursing program based on that. So, that's our most difficult program. Some people worry about having to wait a year, but I always advise students that sometimes they want to go into nursing, and they can be good at it, but they didn't do well in science classes their senior year. So, when they do the prereqs, it'll either tell them that they want to keep going in this profession or maybe it's a lot harder than they thought, and they don't want to pursue it anymore. But it gives you a year to prove to yourself that you can do this at the college level. Part of it is us giving kids that out to decide they don't want nursing, but also gives a chance to the kids that can do it and be good at it who maybe don't have the high school statistics and GPA and test scores showing that right away. That's the most competitive of the programs for that reason alone. Most of the time, when you have those health science majors, the curriculum is pretty much set in stone, and there is no wavering from that. So, it gives them a year to figure things out during that grace period.
SocratesPost: Where I'm from in California, the public schools will admit you based on your chosen major. Does Lynchburg admit students based on chosen majors?
Here's a preview of the rest of our conversation! Subscribe to read the rest and support our ad-free newsletter.
SocratesPost: I saw that you guys offer a paper application. How often do applicants actually use that instead of the online app?
SocratesPost: That's funny. Alright, I'll start wrapping up here. What is your best piece of advice for someone who wants to attend Lynchburg?
SocratesPost: Cool. And then the last question is, what are some questions that you wish I asked? I didn't ask you.
Never let a sticker price of tuition or housing freak you out into not apply and not asking those questions… sometimes it's cheaper to go out of state or go to a private school.
SocratesPost: Yeah, especially with the guaranteed scholarship that you guys give, I think, if you didn't ask for it and look carefully, you probably would miss that.
SocratesPost: Is it because you have the time to walk all of your applicants through the process and treat them as individuals?
SocratesPost: In what ways?
SocratesPost: What's the thought process behind that?
SocratesPost: That's great. What else do you have to add?
Riley at Lynchburg: I appreciate the diversity amongst the questions that you asked. I really appreciate that. There was a book that was written by a New York Times editor called Colleges That Change Lives, and we're in that group of colleges. It's basically small schools that do different things that could be a good fit for students. We stay in that group while some schools are added in or drop out. I think the fact that we're staying within it is something that we're proud of. We like being different; it's a good thing.
SocratesPost: Well let's celebrate being different, then. Thanks so much for your time and insights today, Riley.
This concludes our exclusive insider interview with admissions officer, Riley Haris!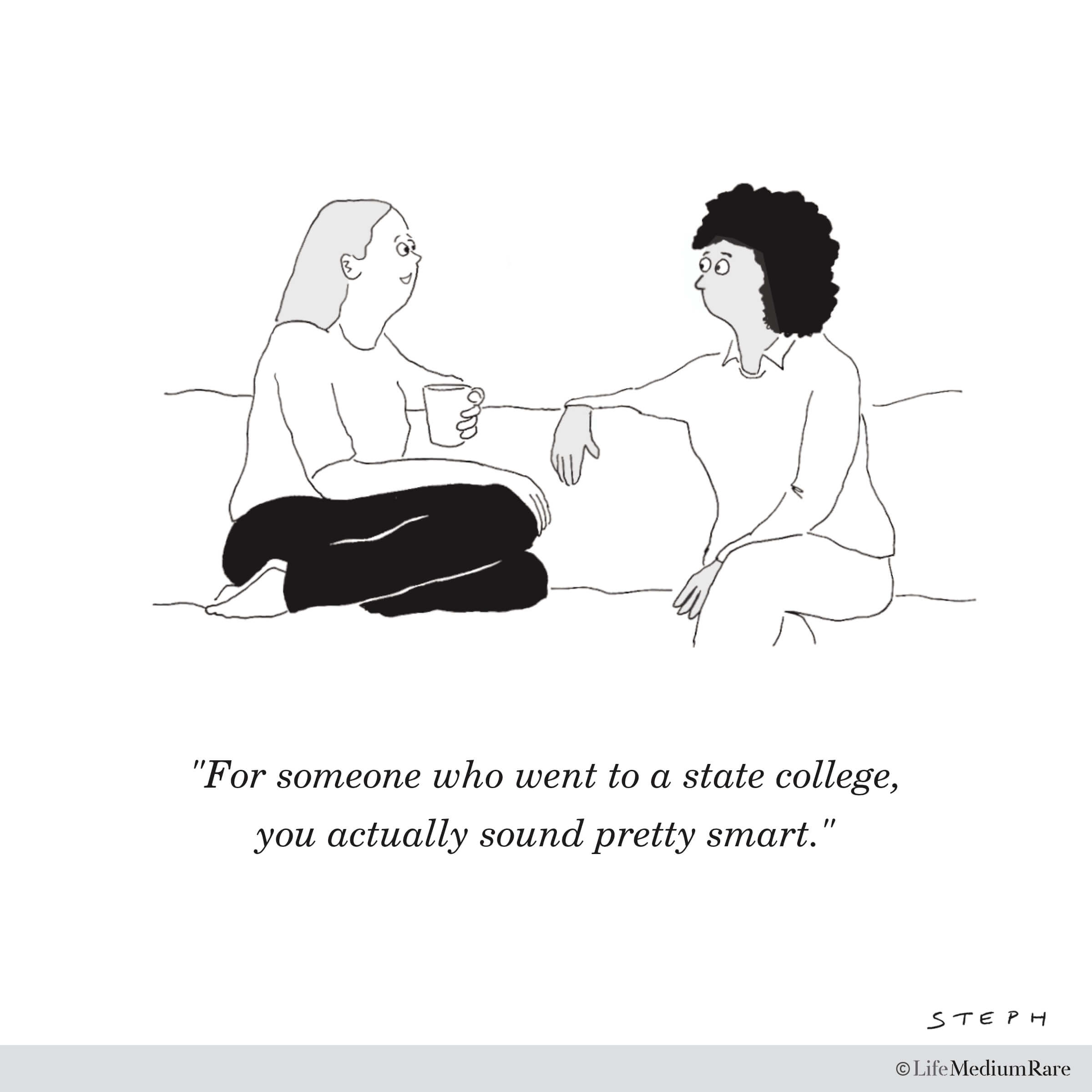 Stephan Donche a.k.a. Steph, an artist originally from the South of France, will be designing fresh, humorous college admissions-relate cartoons exclusively for SocratesPost, published only in our weekly issues! "'If you find it hard to laugh at yourself, I would be happy to do it for you," Steph quotes Groucho Marx. Find more of his work and follow him on Instagram here:
@life_medium_rare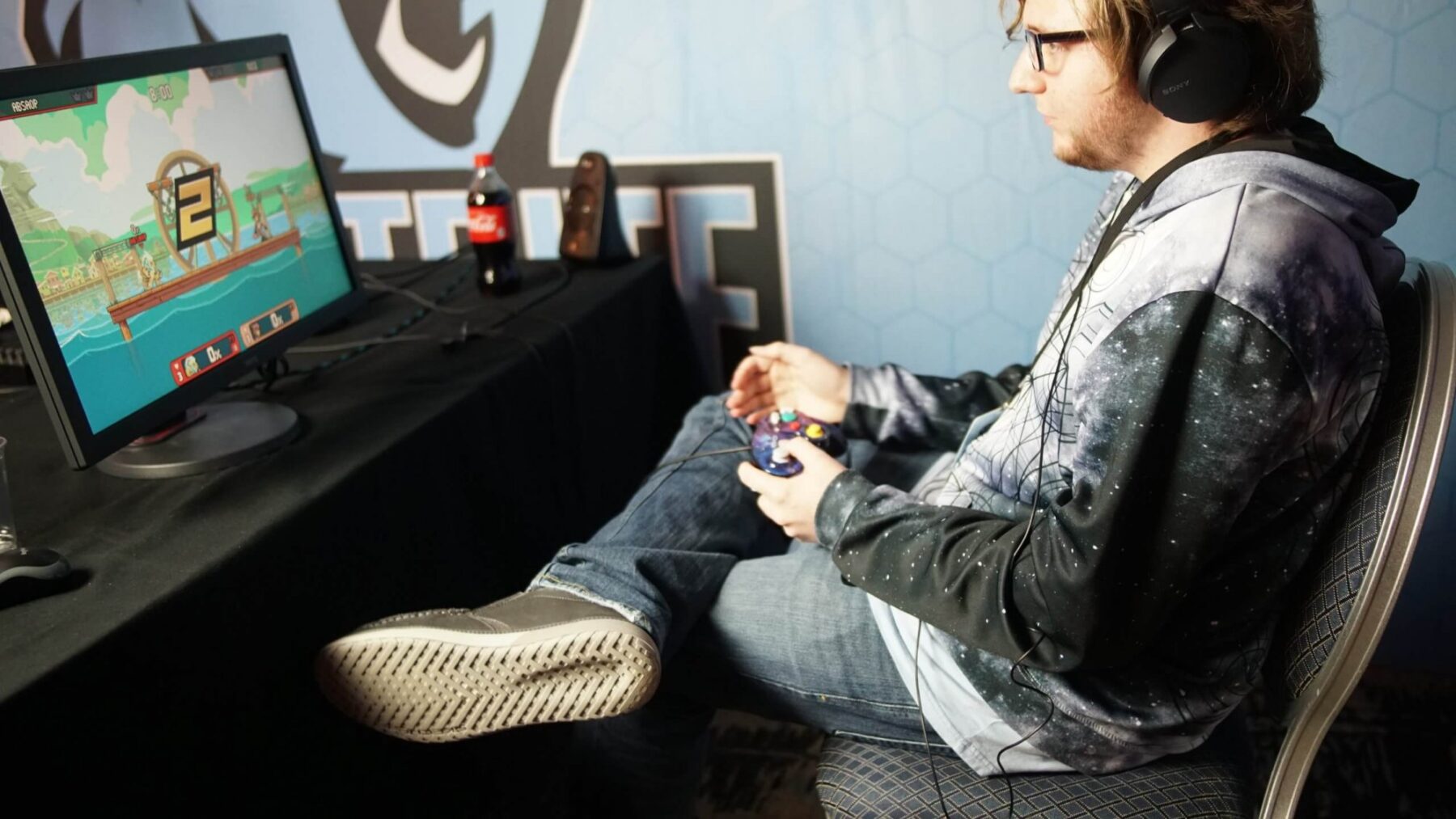 The simple answer is no.
The more complicated answer is it also depends on the level of her academic performance and teacher recommendations. If a student with low grades writes about her love of video games, an application reader can only assume video games distract her from her academic priorities.
It also depends on how she describes those life changes. You say that video games have made her better. But how she describes her transformation matters. And it matters that she doesn't sound like she's defending herself.
We've interviewed countless admissions insiders about how they evaluate extracurricular activities.
Here's what we learned. Describing her love of video games won't hurt her chances if she's able to simultaneously articulate the following 4 attributes:
1. How video gaming helped her contribute to her community.
It's not enough to be passionate or accomplished. She also needs to also use that passion for video games for benefit the social good.
In Issue 16, we interviewed a Princeton admissions interviewer, Dr. Maurice Ewing:
"The difference with the elite schools that they're fine with you doing that with yourself, but it's something you'd do for other people. That ideal student says it's not enough to do it for myself — it's to help others. The world is filled with people who do things for themselves. The difference between an artist and a Princeton architect is that they do things to assist in the social good."
Admissions officers might worry that an applicant's video game passion kept them from engaging with real humans in their world. They might feel concerned that her focus on the screen and the console means she's uninterested in making others' lives better or easier. But if she has demonstrated a desire to help others or change her community through her passion of video games or in other ways, it won't hinder her chances of getting in.
Join our e-mail list and submit your question to the weekly Dear Socrates advice column.

SocratesPost is always on the frontlines scouring the news for relevant updates in the college admissions landscape. We look for anything that can help shape our understanding of the latest trends in admissions and help our readers see the direction in which we're moving. Headlines we explore this week:
Financial crisis: This college was overenrolled for years. Now, it can't get enough students to attend. Where is it?
SMS alert: you might be asked to join group texts started by colleges interested in you. What does this look like?
Stanford's financial aid truth exposed: How was a current student misled into thinking she'd pay less?
Want to read a news brief?
Our readers vote on their favorite headline every week.
We send the news brief with the most votes to all voters.
Become a reader and see beyond the headlines.