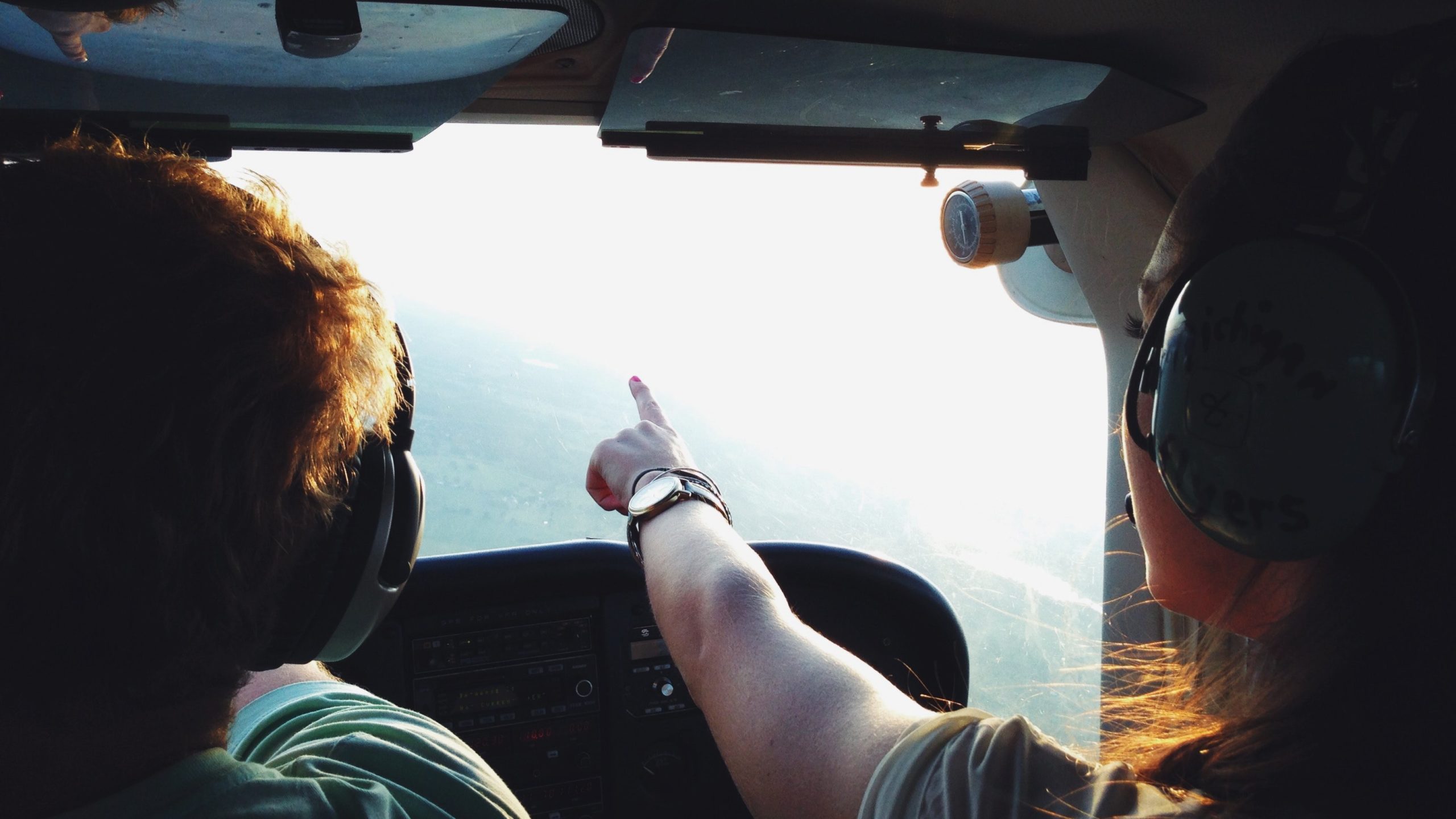 I want to become a pilot. Which college should I attend?
- Henry Osigwe from Nigeria
Hey Henry, if you only want to be a private pilot flying recreationally, you actually don't need to go to college. But it sounds like you might be looking into piloting as a career, which means having a Bachelor's degree would give you a leg up. Just having a degree, however, is not enough. You will need to get the requisite commercial license, medical certificate, logged flight hours, and FCC radio license, among others.
According to the Bureau of Labor Statistics, "Airline pilots typically need a bachelor's degree in any subject, along with a commercial pilot's license and an ATP certificate from the FAA."
We checked real-time job postings in today's market and saw what they're looking for. Here's an example of a job description from SkyWest, a regional airline that serves North America.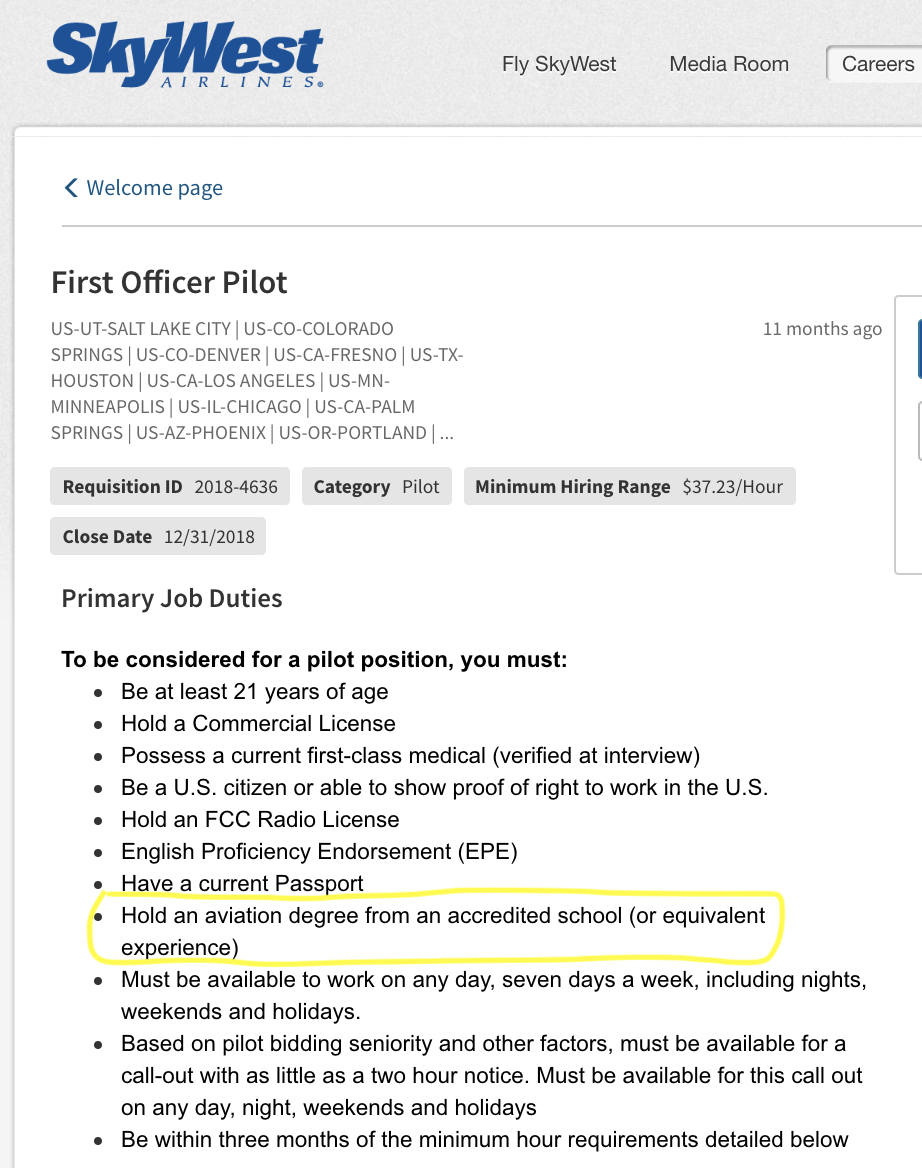 Note that SkyWest's education requirements (circled in yellow) say to even be considered, you'd need to "hold an aviation degree from an accredited school (or equivalent experience)." Because holding a Bachelor's degree is not a requirement of this job, having one would help you stand out from a large pool of applicants.
Next, let's take a look at UPS, a global carrier but not a passenger airline. We found this job posting just this week, so it's as up-to-date as it can get.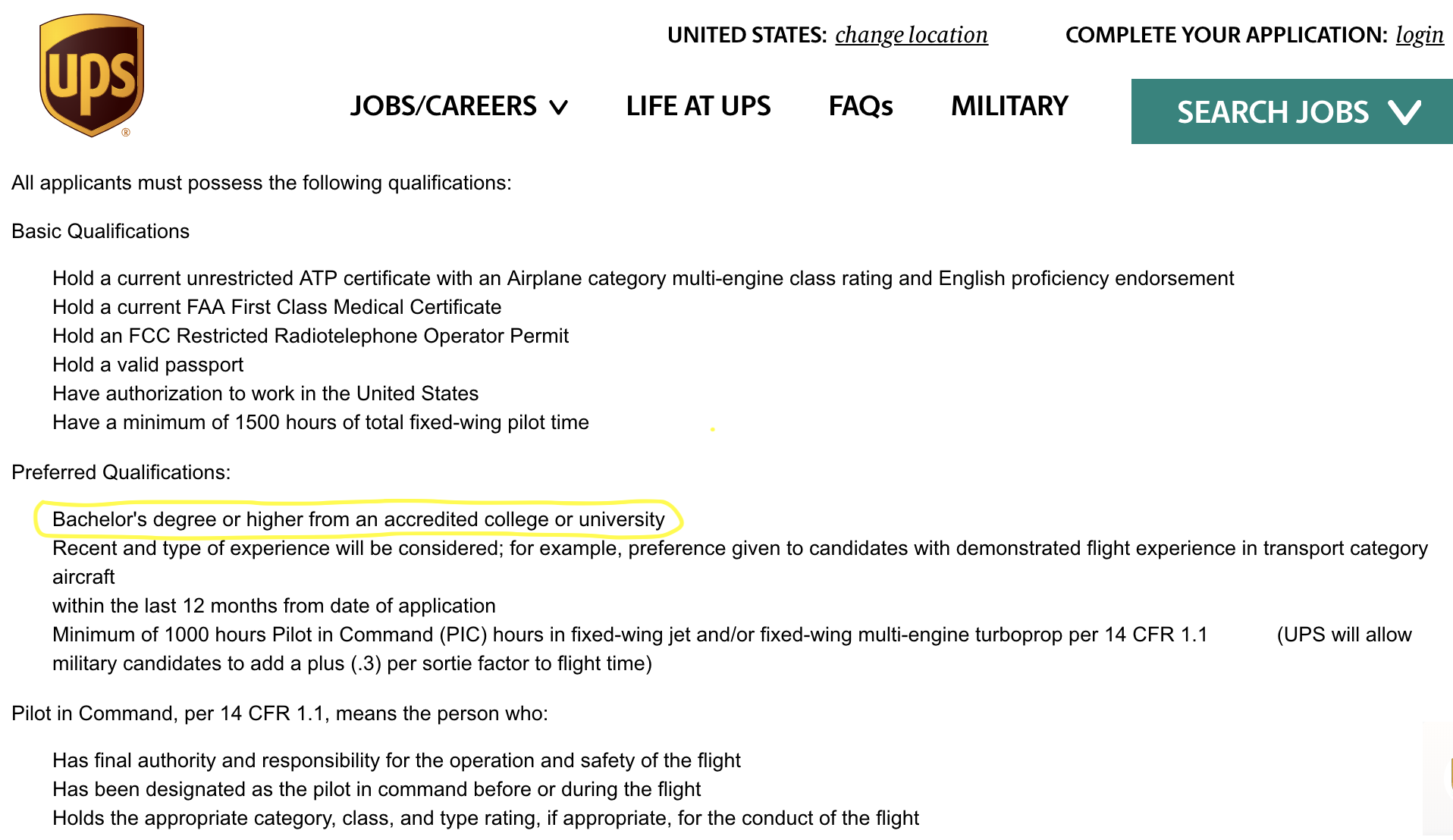 Note that UPS' preferred qualifications (circled in yellow) include a "Bachelor's degree or higher from an accredited college or university."
In the U.S., there is not just one institution that prepares students for a career as a pilot. In addition to identifying the schools with the program you're looking for, you should also consider where you stack up academically against the average applicant, assess your ability to succeed and thrive in that college environment, and really evaluate the costs of attendance.
The truth of the matter is that there is no ONE college that will guarantee you a job in your chosen career. Furthermore, just because you want to do something, doesn't mean the gatekeepers (admissions officers) think you'll be a good fit!
You should be looking for universities or colleges that grant Bachelor's degrees, particularly in subjects like aviation and aeronautics, as that will relate directly to your desired career as a pilot. Without knowing your academic profile, here are a few schools for you to look into — with a list of 3 follow-up steps to evaluate them.
1. Purdue University in West Lafayette, Indiana, USA