How do you list international awards, illustrations credits for a book published internationally and Founder and President of a 501c3 on the Common App? How do you decide where to put each extracurricular?
– Jacqueline, a parent in Grapevine, Texas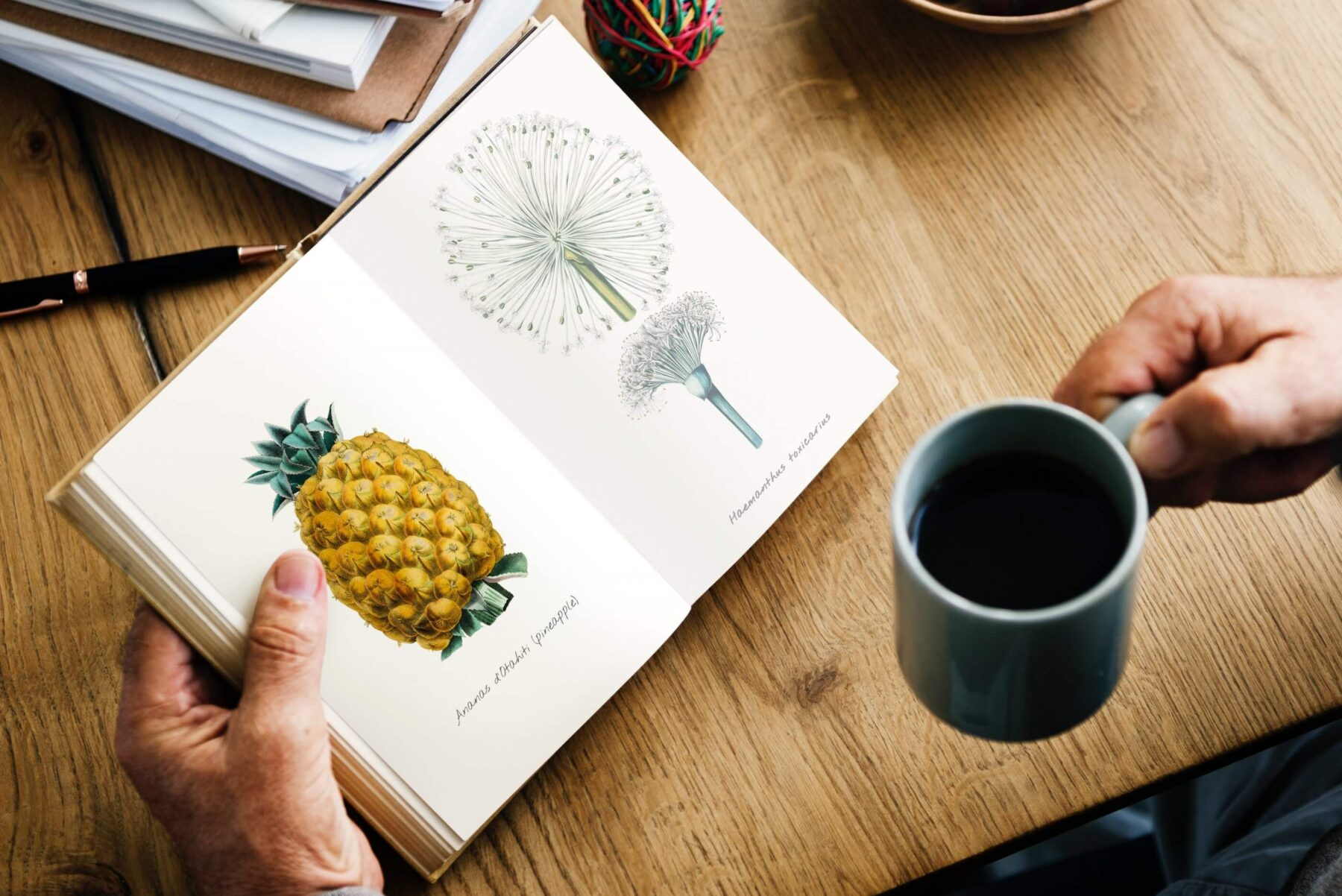 The Common App allows you to categorize your extracurriculars achievements into groups such as Academics, Art, Career, Journalism/Publication, Community Service (Volunteer), Social Justice, and more. Because many extracurricular activities fall within multiple categories, it can be confusing to decide where to put each one. I use a two-step strategy to decide where to place each one. This strategy helps create the applicant's personal brand, thereby allowing the admissions officer to envision the type of student and contributor he'll be on campus. Lastly, the specific words your child uses to describe his role or accomplishments can help tarnish or boost his personal brand.
Step 1: Pick the category with highest relevance to the activity.
Step 2: If there are multiple equally relevant categories, pick the category most related to your intended major.
For example, since your child is a published illustrator of an internationally-acclaimed book, that achievement could fall under either art or journalism/publication. However, since he is applying for a theater major, it makes more sense to categorize it as art as opposed to journalism/publication. Theater is more often considered art, not journalism. When application readers look at your student's application, they will be able to imagine him as an artist who has relevant experiences to contribute to his other performing arts peers.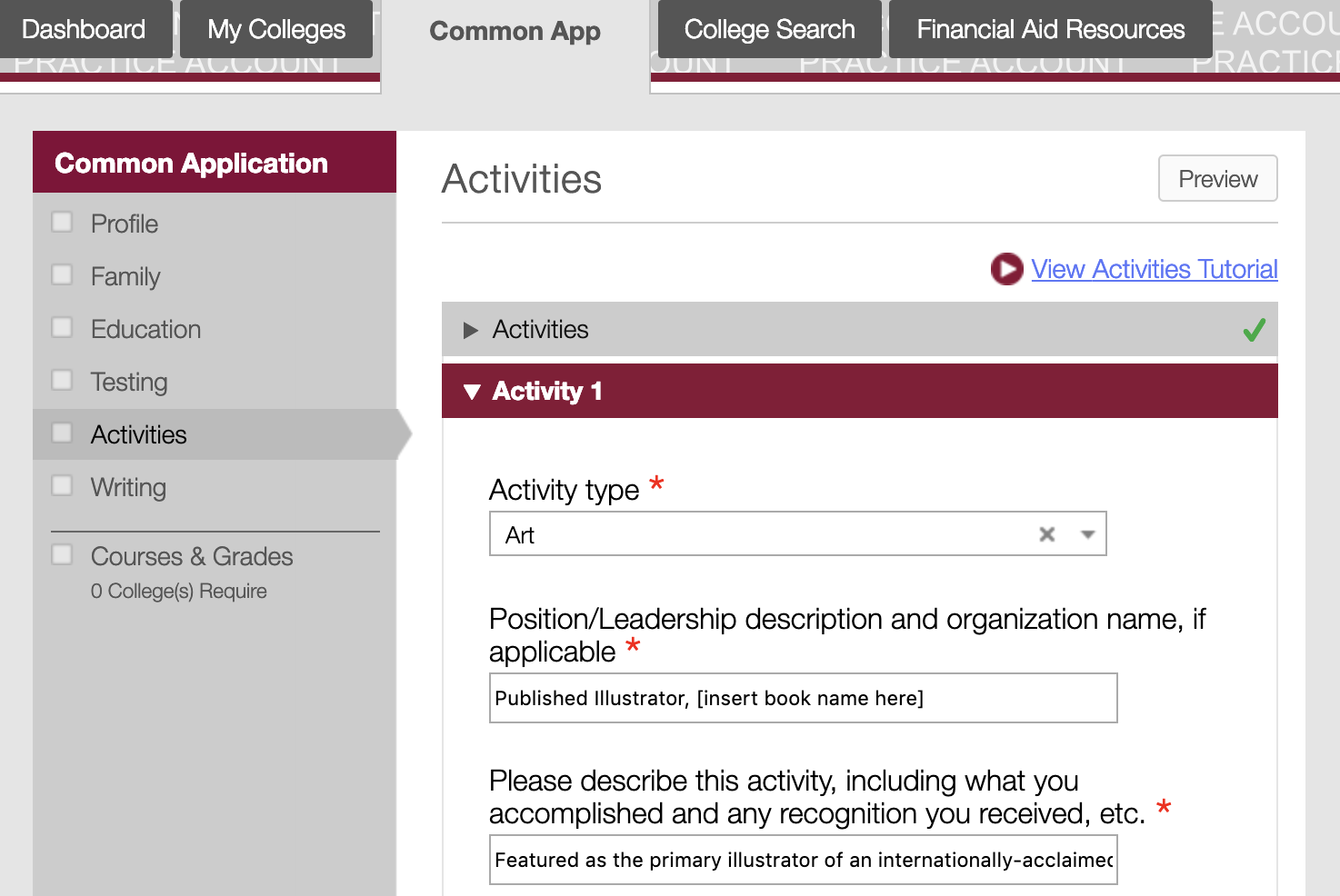 Using these two steps, you can figure out how to best list your child's accomplishment as the Founder/President of a nonprofit organization.

Step 1: Was it most related to Community Service (Volunteer), Social Justice, Religion, or other? Choose the category most relevant to the duties he and the organization actually performed.
Step 2: If the organization related equally to both Community Service and Religion, for example, which one is most related to your child's intended studies or extracurricular involvement in college? Strategizing these categories help create your kid's personal brand and help application readers envision the type of student he'll be on campus.
For the international awards, use the same two-step strategy to pick the best categories.
In addition to where to place your extracurriculars, you should also strategize how to write your extracurriculars.
Students commonly underplayed their extracurricular achievements just by merely using the wrong words. For example, a second chair violist who won several concerto competitions might describe his activity as "Violist" under the Music: Instrumental category as shown below.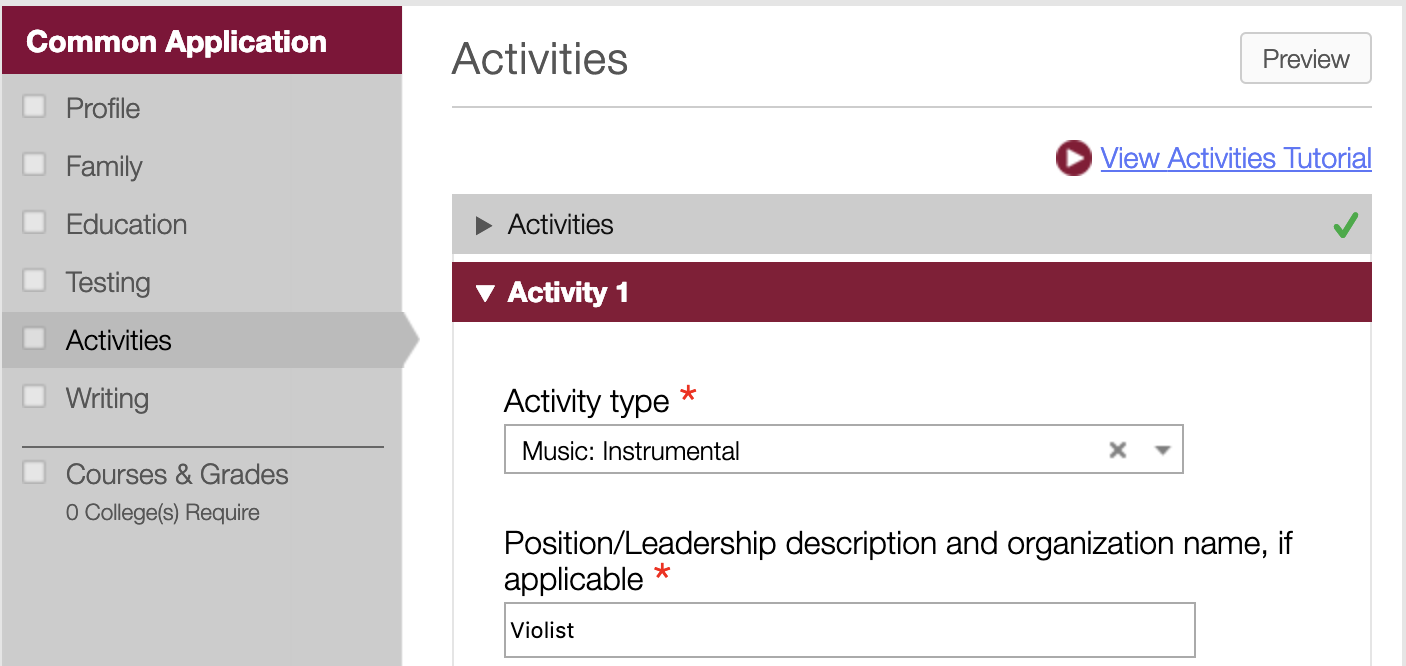 I would advise this musician to focus on his accomplishments, rather than his identity as a violist, by starting with a distinctive achievement such as "1st Place Winner," as shown below.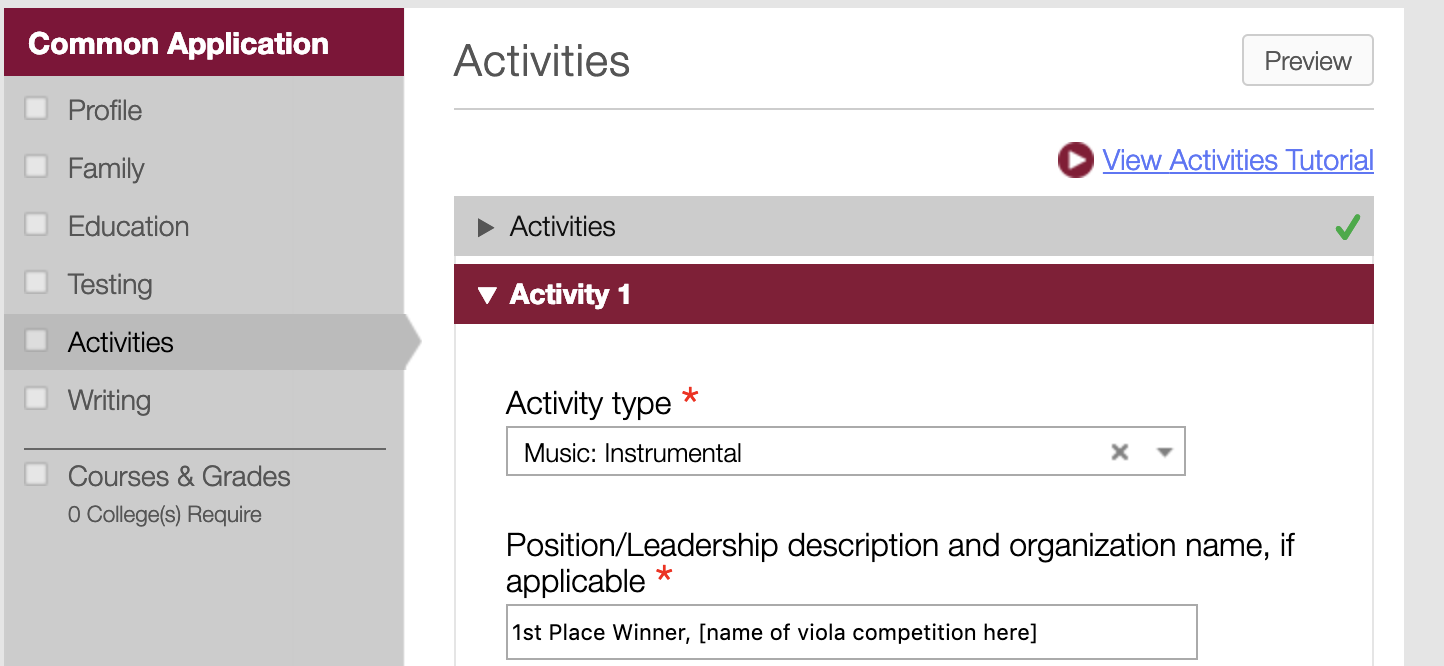 In your specific case, instead of describing himself as a "Volunteer" for the 501c3 organization, he should state his title as "Founder and President."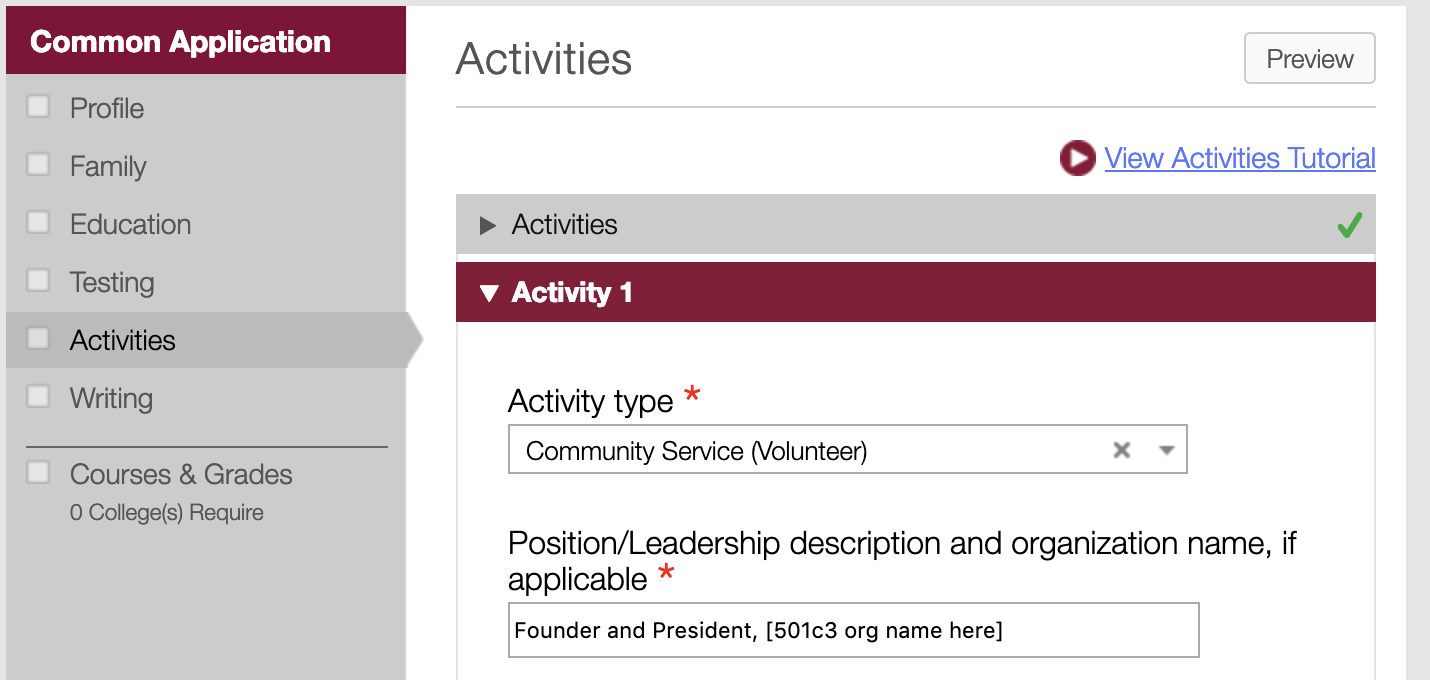 Lastly, in the description section (see below for reference), remember to focus on accomplishments and contributions. Use numbers to show before and after statistics — did your kid grow the club from 5 to 80 members in 4 years? Don't dwell on the tasks or job responsibilities.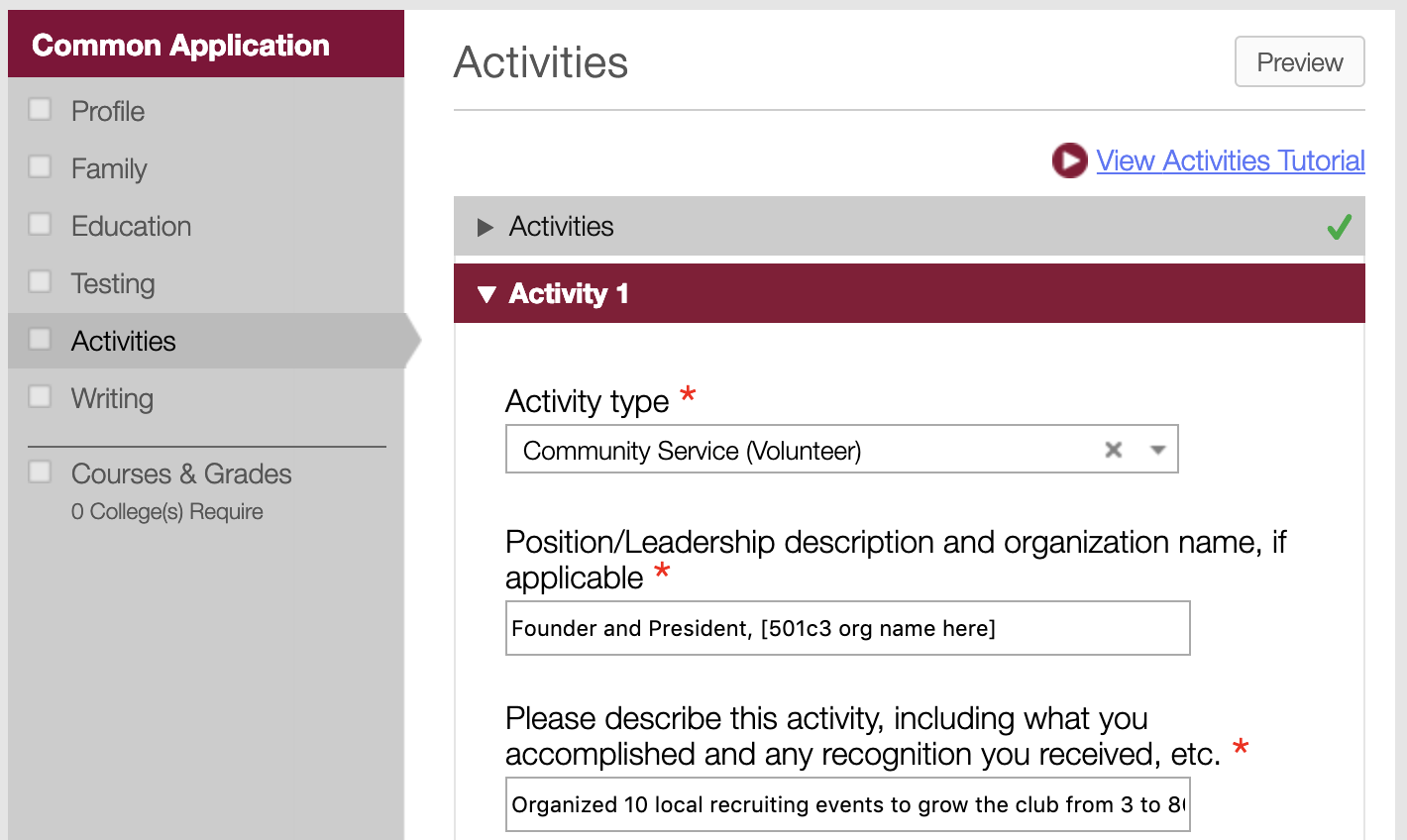 This section should read more like the intro for a famous speaker about to come on stage, focusing on his achievements not daily duties.
Be sure it doesn't sound like a job description or ad for an open job position!