"Why are college rankings so different on different publications? Forbes, Wall Street Journal, US News & World Report, and more rank colleges every year but they're inconsistent. How do I figure out which one is right or which one to follow?"
– High school reader from India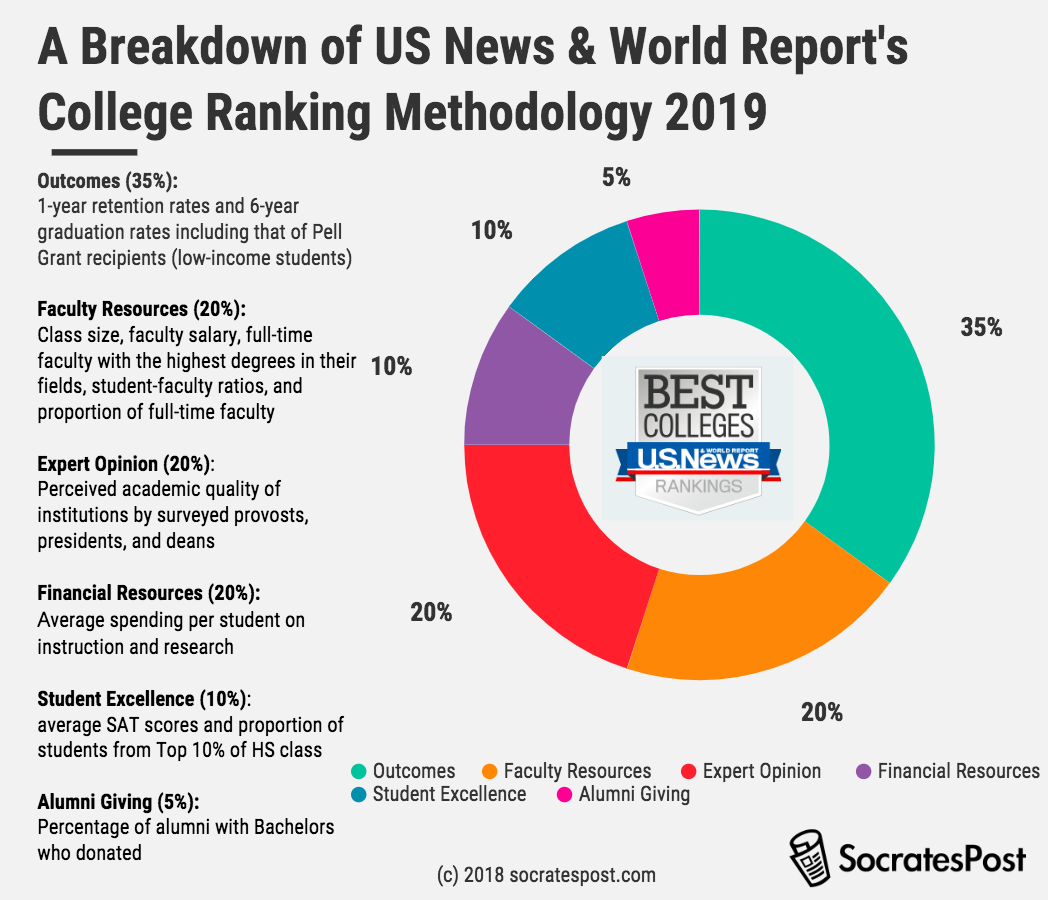 The short answer is that every publication uses its own methodology. Without looking at the methodology and scrutinizing how each one arrives as its numbers, you might mislead yourself into thinking one college is "better" than another. When I worked as a private college consultant, my clients would often say, "I want to get into a top 10 university," or, "What are my chances of getting into a top 10 school?" I responded with, "Top 10 according to what?" Most students didn't even know. To the ones who said, "Top 10 according to U.S. News & World Report," I'd challenge back: "what about their ranking methodology appeals to you and how are your values aligned with theirs?" It didn't surprise me when they stared back at me wide-eyed, unable to articulate and verbalize why they chose to follow the rankings of that particular publication.
SocratesPost investigated the methodology of 3 popular American ranking publications and have broken them down for our readers here.
Let's use my alma mater, Northwestern University, as an example. Northwestern's rankings tend to fluctuate each year. This year, in the latest rankings released in August and September, it ranked #10 in  U.S. News & World Report, #13 in The Wall Street Journal/Times Higher Education (WSJ/THE) ranking, and #20 in Forbes.

So what gives? All three of these rankings assess "outcomes" of some sort. In the U.S. News & World Report, "outcomes" is defined as graduation and retention rates. In WSJ/THE, other scholars' perceptions of academic reputation of the school and ability to repay debt constitute "outcomes," among others. At Forbes, there is no particular "outcomes" category, but they weigh salary, debt, prestigious scholarships, and being featured in one of their "Success Lists" (think "Forbes 30 Under 30" or "Forbes Most Powerful Women") as a measure of positive outcomes.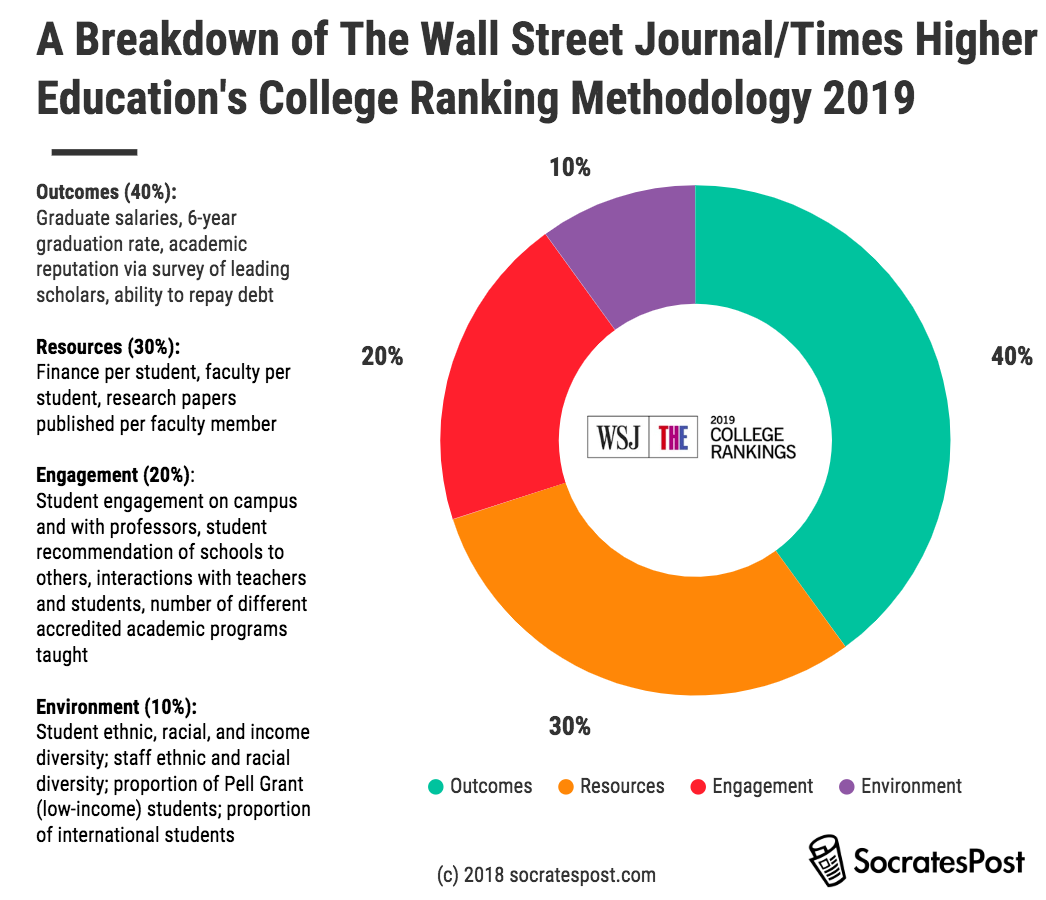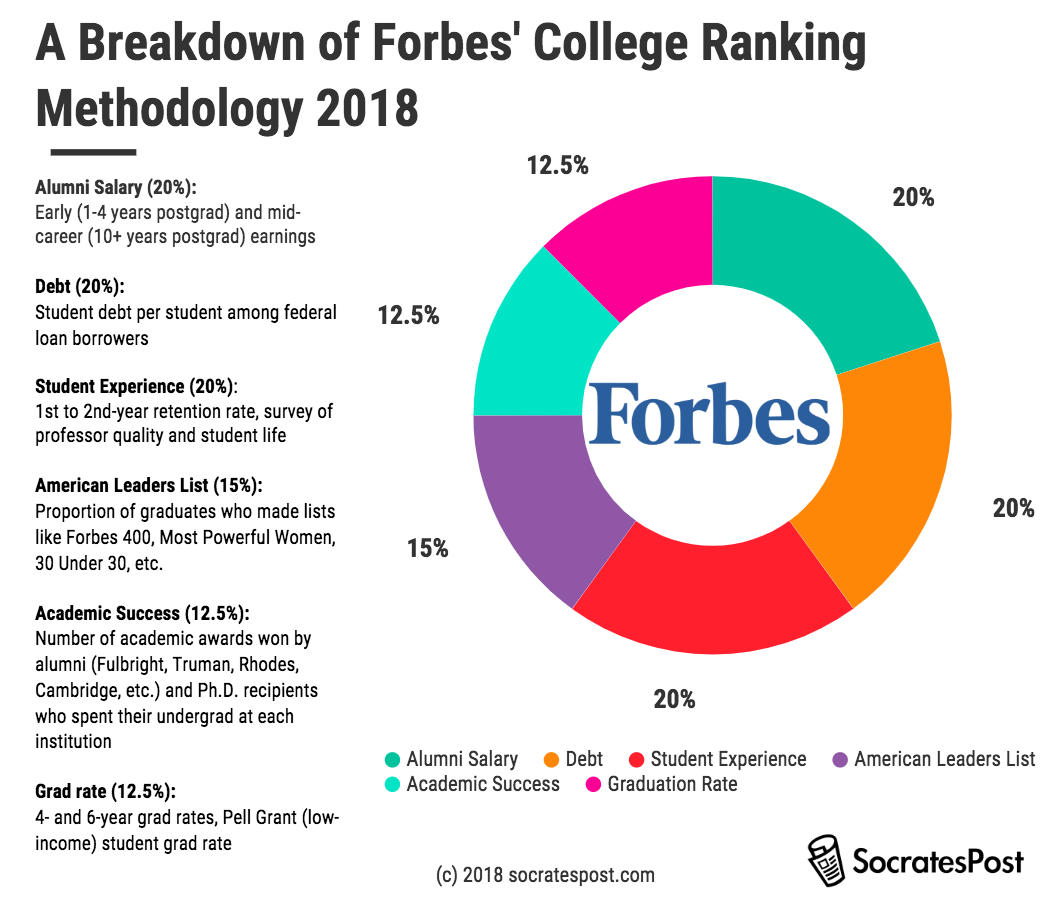 Pay attention to what each ranking determines is a "good outcome" and decide if that works for you. Does having a high mid-career salary matter greatly to you? Then Forbes' ranking might suit you better than the U.S. News and World Report ranking which only calculates faculty salaries, not graduate salaries.. Look for what sets some methodologies apart from others. The WSJ/THE ranking features an "environment" category which measures student and faculty ethnic and racial diversity. If other experts' opinion of your school matters, then U.S. News & World Report's rankings might be the most inline with your values.
Dive deeper into the backstories of these rankings and you might find that some of them are irrelevant to what you look for in a college. Does a high professor's salary or positive assessment of your college from your high school counselor (metrics used in U.S. News & World Report) give you the fulfillment and satisfaction you want from your four years in college? Likely not. But are you looking for student happiness? Overall balance and health? Connection with your community? Opportunities to study abroad without delaying graduation. These three rankings don't quantify or calculate those.
If you need help narrowing down what matters most to you in a college and finding the right metrics, methodologies, and ranking systems, drop us a line. We read and respond to all of our member emails.