"Because we couldn't go out, instead of staying home and playing video games, I decided to dedicate 13 hours of my day every day throughout April, May, June, and July to my business," says Babson College Class of 2025 ED admit, Lorenzo Mazzara. An Italian immigrant who overcame a language barrier, the Stamford, Conn. senior built a business that raised $10k for the Covid fight. Located outside of Boston, the nation's #1 entrepreneurship school accepted only 26% of applicants in 2020.
This week, Lorenzo shares:
How he got in despite a lower-than-average 3.4 GPA and no test scores
The special note the Dean of Admissions wrote him in the acceptance letter
Why he chose to go to college in the U.S. instead of in Italy
Lorenzo, tell us the story of how you got into Babson.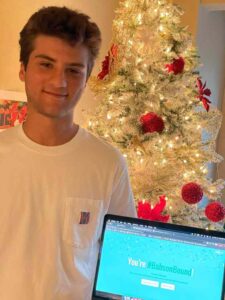 To be honest, everything started when I decided to become an entrepreneur. Other than becoming an entrepreneur just for the fame, the money, the success, and the starting of my own business, I decided more to do something that could help the community and have an impact on the future generations.
How did Babson fit into all of that for you?
I noticed that by looking at all the schools around the U.S. and in Europe that Babson helps a lot with the development of your own skills and with displaying the capabilities that you have after you're done with college and you can apply them in the work area. I did my research and noticed that Babson was the number one school for entrepreneurship.
Wow, what did you expect from the number one school for entrepreneurship?
When I went to visit Babson, I was more than happy to see how students, instead of memorizing and studying pages, they were applying what they learned in class in the first half on a work area on the sector. As a matter of fact, there is also a program called FME, if I'm not mistaken, where students since their first year develop their own business and they try to make it work towards the end of the semester. And so I decided to apply early decision because it was the school of my dreams.
What happened when you found out you got in?
I promised my parents that if I got in, I was going to get a buzz cut. As a matter of fact, I did get a buzz cut when I got in, and now the hair is growing back. I honestly didn't know I was going to get in for various reasons: GPA, SAT, and also Covid. I was extremely relieved, because I worked a lot for this. My parents told me I earned it, so I'm more than happy to end up getting into Babson.
What were some of your other concerns about getting into Babson?
I moved from Italy four years ago, and my English skills were low or non-existent. I never learned English in a way where I could apply it every day throughout high school, but throughout the years, I tried to learn and challenge myself, which is also good for business. When I was trying my best, I had to focus more on learning the language rather than focus on my classes, so the first few years of my high school career I didn't do very well because of the language barrier.
How did you overcome the language barrier in high school? That's a huge challenge many domestic students don't face.
I started having some new friends who helped me a lot with the English. They also suggested that instead of taking CP courses, I was supposed to challenge myself by taking honors and AP courses. So after the first year, I picked up a little bit more English, and I started challenging myself. However, as the level of intensity increased, of course I was struggling a little bit more. But with GPA, I noticed that despite the fact that I was not very good with the language, it was all based upon what I was capable of learning and applying throughout the tests. So I tried my best. I tried to end the year with the highest grades that I could, and the GPA did its work and it worked perfectly fine, because I got in.
What a comeback! Let's back up a bit. Can you tell us about your high school?
I'm a rising senior at Westhill High School in Stamford, Connecticut. It's a small town in Connecticut. And Westhill is a school with at least 2500 students. The environment in that school is an environment where kids love to challenge themselves, but also there are other kids that prefer playing sports, so it's divided.
What do you like most about Westhill High?
The teachers challenge students on the tests and also on the material that they give you. For example, my macroeconomics teacher always tells us that we need to challenge ourselves to the best of our capabilities. And no matter how bad we do on a test, we know that we tried our best because the goal for taking a class and learning is not to do very well in tests, but it's to learn and be capable of applying all the material that you learned.
What are some unique classes you've taken throughout high school?
Freshman year I took entrepreneurship, an important class for Babson. I developed my own business freshman year and I won the contest at the NFBE with my friend. I fell in love with that class because it's similar to the program at Babson because they made us set up our own business. My idea was pretty nice, so I won. I had to do double math sophomore year because I wanted to catch up with my peers. This year, I'm taking a few classes that I'm really liking a lot: calculus, computer science, and macroeconomics. Those are the major classes that I'm liking the most. There is also physics. It's still good, but I don't really enjoy it.
Your business is something you're so passionate about. Can you tell us more about it?
When the coronavirus hit my community, I decided to call my close friends to start a group of students who do good deeds that can make a big difference. I gave it the name Westhill Angels, because an angel is a person that looks after you and always has your back, and Westhill is the name of my high school. We started by donating numerous face shields to the local hospital. We have also been featured on the media because we donated $10,000 to the hospital. We helped pre-K schools and donated numerous books for kids in the tens of thousands.
Will you continue working on Westhill Angels when you go to Babson?
We're still trying to involve new kids from lower grades so that when we leave for college, Westhill Angels is not going to be over but rather passed on to underclassmen. When I was also doing my college applications, I always try to denote the fact that kids need to follow entrepreneurship because they need to be social people that are ready to take action and make a big difference in the community. A generation for the next decade needs to realize how we are the future and we need to uphold all the capabilities that we have at our disposal. We need to help all the people in need that need help.
It's incredible how you're able to do this while juggling a rigorous course load. How many hours do you spend on Westhill Angels a day?
Because we couldn't go out, instead of staying home and playing video games, I decided to dedicate 13 hours of my day every day throughout April, May, June, and July just doing this, because I wanted to work hard and I wanted to make sure that everybody was doing fine. I tried to help as many people as I could. I was dedicating most of my time. If I was not sleeping, eating, or maybe staying with my family one hour, I was just dedicating my time on this. That also reflected a little bit on my grades, but when I explained to my teachers what I was doing, they tried to back off a little bit with the assignments and tried their best to not push me too much with the due dates.
What was the most challenging aspect of college apps for you?
I had more problems with the teacher recommendations because seeing the teachers throughout high school during Covid was almost impossible. The teachers that I had years before were doing remote, and they were not responding to the emails as they used to.
How did you get them to eventually respond?
I had to contact the principal of the school and tell him that they were not responding and I needed my teacher recommendations. After that, they just told me that they were not checking emails as often because they changed them.