"I don't remember the prompt I ended up choosing. My teacher told me, 'Just start writing, and then pick the prompt that fits yours the best,'" says Clara Collins, a Class of '25 admit to NYU Tisch School of the Arts, published playwright, and future screenwriter from Charleston, South Carolina. NYU accepted only 12.8% of applicants this cycle, including Clara, a top student with a 33 ACT and 3.9 unweighted GPA who also got into USC, Emerson, and Chapman. The author of Give Up The Ghost, a play produced and performed in Los Angeles, shares this week: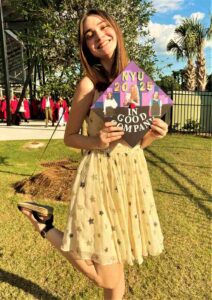 How to tell a good story for college essays, from a 7-year creative writing major
Her mom's emphasis on reading from a young age contributed to her writing talents
The best way to handle feedback about your creative writing while staying genuine
Clara, thanks for joining us! Tell us a bit about where you're from.
I'm from Charleston, South Carolina. I've gone to Charleston County School of the Arts since the sixth grade, and I was a creative writing major there for all seven years.
What got you into creative writing at such a young age?
I actually did not want to be a creative writing major going in. They let you audition for two, and I really wanted to do theater. I was big into musical theater in elementary school, but my parents told me, "You should try for creative writing," and I ended up getting in. It was the best decision I ever made, because I realized over the years that that was definitely what I was meant to be doing.
How did you realize that creative writing was what you wanted to be doing?
I'd always written a little bit in elementary school; that was why my parents wanted me to audition. They were like, "You've always been writing stories." I didn't love it for the first couple years, because I thought I was really bad at it. But the Creative Writing Program at School of the Arts really helped me gain confidence. The more I did it, the more I realized that I liked it. By eighth or ninth grade, I had started to realize, "This is what I want to do with my life. This isn't just a high school thing."
As a creative writing major in high school, what does your coursework look like?
In high school, we have four classes every day, 90-minute periods. Every day, one of those periods is a creative writing class. Throughout high school, it's a different kind of class every semester, so we do a little bit of poetry, a little bit of short story-writing, creative nonfiction and of course, my favorite was in 10th grade we did a semester on dramatic writing, so writing for film. And then in senior year, our thesis project is that we have to write a 100-page book of any genre we want.
Was it easier to write college essays because you were a creative writing major?
It was definitely something I was more used to. You get used to, when you're writing every day, how to tell a story, which is what colleges are looking for. I think a lot of times people get caught up and a little concerned that they don't have a sob story or an interesting thing that's happened to them. I don't think that's really what they need at all. It's just that you need to be able to tell a good story about you.
Tell us, from the perspective of someone who has studied creative writing for seven years and is  pursuing it as a profession, how do you tell a story?
The first step is that you need to be telling something you're passionate about. If your paper, your essay, is dropped on the ground and someone picked it up, they should be able to tell it was you. You need to be comfortable with your way of telling your story. You need to write a lot and see what you sound like. That's the best advice I can give: just to write and write and write and see what comes from that.
Let us backtrack a bit. Tell us the story of when you found out you got into NYU.
It was December 15. I remember I got a couple college acceptances that day, but NYU was my last one. And it didn't come until I was in the car driving home from school. I got the notification, and I was like, "No, I can't check it now. I don't want to wreck my car." I got home, and I opened the email. I saw that I got in, and I immediately started crying. But I was convinced, even though I saw "Congratulations," I was like, "There's got to be a test somewhere in this email." But there wasn't, and so I started crying my eyes out, and then I had to get on a Zoom call after that, and everyone was looking at me. Finally, 30 minutes in, some girl was like, "I know that you heard from NYU today, and I see that you have been crying. I don't want to ask if it was bad or good." But I was like, "No, it's good."
What a great story! How did you narrow down NYU as your first-choice college?
I did the kind of search that everyone does. It was a lot easier on me because one, I knew I wanted to live in a city. And two, I knew what I wanted to do in advance. I know a lot of friends of mine were just trying to figure it out based on fit and stuff because they didn't know exactly what they wanted to do. I was looking for specifically film programs, and so NYU was obviously at the top of the list of best film schools and was also in New York. And then I toured it, and it was just like that magic moment where it's like, "Wow, I want to be here every day."
How did you know that NYU's film program stood out from other reputable programs?
Obviously, there are several very big well-known film schools. One of the main reasons I chose NYU is because of their focus on storytelling within the film program, and it does have a lot of focus on screenwriting. I would go through the course catalog and look at the screenwriting courses. But just even throughout the application process, I had to put together a portfolio, and it was clear that NYU really put a lot of emphasis on their applicants being able to tell a good story.
What was it like working with your parents in selecting NYU as your first-choice school?
My parents are just the most supportive people in the whole world. I've always been very independent, so I can't say they were too involved in the nitty gritty applying to college stuff; they really let me handle that. I know a lot of parents, when their kid sits them down and says, "I want to go to film school," would be like, "What?" My parents were just so enthusiastic and excited about the whole thing, and they really wanted me to tell them what I wanted. We went on all these college tours together before Covid, and we figured out together what I liked and what I wanted. She's definitely happy that I'm saying on the East Coast, that I'm not going to California or anywhere.
What involvement outside of school do you think made you a standout applicant to NYU?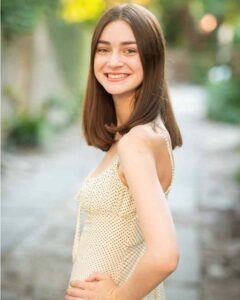 Creative writing, screenwriting was a major component of most of my extracurriculars. I had my book, which I was writing when I was applying. I wrote a screenplay. And then I had submitted some poems, some screenplays to contests, and a couple of those have been published. And then I think my biggest, most exciting extracurricular award was that I submitted a play to a contest in L.A., and it ended up being one of the winners. It was produced as a show over a weekend in L.A., so that was an amazing experience. Not only was it something to put on my college application, but it was also getting a taste of what my future would be like if I decided to pursue screenwriting.
Wow! Were you able to see the play you wrote?
Yes. I flew out to L.A. I spent a week there. I watched the rehearsals with my actresses, worked with my director, and then we had a big showing. It was literally just the best experience ever.
Can you share a bit more about what your play is about?
It was a short play; I think it was about 30 pages long, 30 minutes. It came about based on this prompt we had in my creative writing class where we took one story idea and we put it in different settings to see how setting influenced it. It ended up being about these two women trapped in an insane asylum in the fifties. I did a commentary on how the various ways that women can be trapped in their lives. I sent it off, and it won.
How do you get your creative ideas?