"At first, I wasn't really very open with my teachers, and I wouldn't really communicate with them. I was an introvert and I thought I need to open up a bit and give them the opportunity to actually give me help," says Arav Jagroop, who was accepted to Princeton University's Class of 2025 without test scores.
This week, the aspiring politician and varsity tennis and basketball captain shares:
Why focusing on fewer extracurriculars earned him a seat at Princeton
The resources he used to get into Princeton without his parents' help
How his mindset shift helped him build relationships with his teacher recommenders despite online classes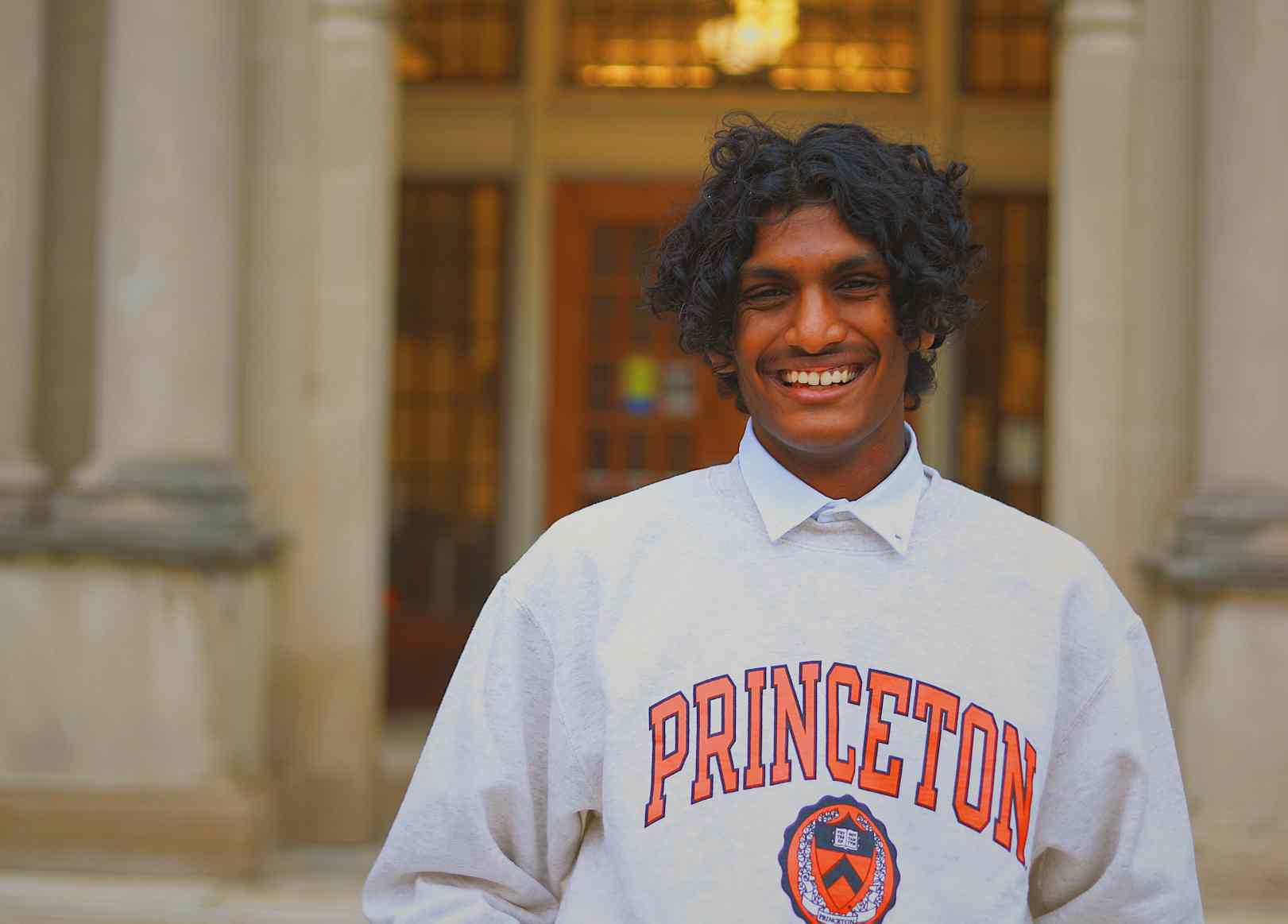 Arav, can you tell us about where you go to school now?
I go to the University Laboratory High School, which is connected to the University of Illinois at Urbana Champaign. There's about 65 kids in my class. And I transferred in there my freshman year from a small rural white town. It's very academically challenging. I credited a lot my success and my readiness for college by going to that school.
What's the environment like at University Laboratory High School?
I would say that it's somewhat toxic on a level because all of us are trying to get into the most prestigious schools, and everyone wants to be the best, so it's super competitive, but in my personal case, I feel like that really helped me because it really brought the best out of me. I wouldn't have had a lot of the extracurriculars I had.
Here's a fun one: Can you tell us about the moment you found out you got accepted to Princeton?
I was wondering if I should record it or not, because I didn't think I was getting in. I didn't want to have that memory of me not getting into the school. So I just had it off to the side so that you can't really see my face, but I opened it by myself. And once I saw it, I didn't scream. I just was in complete shock. I had no clue what was going on. I walked out to my kitchen where my family was, and I told my grandma, "I'm going to Princeton." They were all screaming and then it wasn't until five minutes or 10 minutes later, I started to actually realize what was going on. And then I started screaming and crying. And it was honestly one of the best feelings in my life.
What do you think got you into Princeton, if you had to guess?
I would honestly say my authenticity in my essays. I was able to get across who I wanted to be. I feel like my essays are definitely my strongest suit because I didn't really submit a score. I took the SAT in November, which was past the deadline. So I didn't have the chance to submit it.
What was your approach to keep your essay so authentic?
I had a mentor who was helping me through the process. It was through a program called Matriculate, and they help high achieving low income students. It was a free program where I was able to be paired with like a mentor from Yale, and she would help me with just the process in general. I was confused on how to write it and what I should really talk about, but she helped me through the essay portion. And what she taught me was you just always want to focus on you. And I feel like that's one of the most important things about the college application process: don't try and be someone else. Be yourself and good things will happen. I'll continue to use that same value for the rest of my life.
What was the theme of your essay, if you don't mind sharing?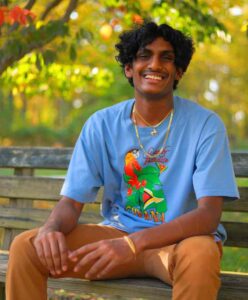 My essay was about me moving to America from Guyana, South America when I was nine. Just moving to like a homogeneously white town, and how that was challenging. And it taught me how I can connect back to my Guyanese culture. I connected my Guyanese culture to living here and how my Guyanese culture really shaped me. And I also talked about what I want to do when I grew up, so I talked about moving back to Guyana and becoming politician there. So I wrote a lot of my essays about politics and how I can help guide these people through politics.
Can you share how you chose this career path of going back to Guyana and becoming a politician there?
I didn't really know what I was doing until probably 2020. Freshman year, no clue. Sophomore year, I was thinking engineering. Maybe junior year, I realized I don't really like math and science. And then senior year, I decided on politics because after everything that was happening in the world, I realized politics can really make change in people's lives. And that's something I really want to do in Guyana. They had an election just like America, and it was so much similar, very corrupt. I realized that I want to be the change guy and because they're known for their corruption. I feel like if I can go back there with my U.S. education, I can probably make a difference and try to change the people's lives.
When you look back, can you identify anyone who helped you choose this career?
I would probably say my grandma. She has this little iPad where she would track the election and watch a bunch of videos. Just seeing her emotion and seeing how much she cared about it and how much it can actually affect her life, even though she's not even there. It really made me feel like wow, this means something.
If you could accomplish one thing for the people in Guyana, what would it be?
Create more economic equality, because it seems like all the people at the top care about their people and not the people. And it seems as if they only care about getting richer. And that means that the common people don't reap the benefits of a lot of the natural resources, like oil. If I were the president, or if I was a politician there, I would try and make changes to where the Guyanese people reap the benefits as well as the people at the top.
How does your career plan fit into your plan for Princeton?
I picked politics at Princeton, and I feel like it connects quite well. And I'm probably going to try and go to law school after that. I'm not really going to be thinking about that. It's that seems like a whole other stressful situation. So I'll just leave that for later. I feel like that will probably get me the basic foundations of politics in America and just politics in general. And the thoughts you have to have to be successful in politics.
Can you talk about how your extracurriculars contributed to your acceptance to Princeton?
Basketball, number one, tennis, theater, Peer Court, my website Teen Immigrants and then me writing for a basketball IQ website. The thing that really stuck out was probably my direct involvement in each of them because I put a lot of time into each of those things. And I didn't really do a bunch. I wasn't the leader of a bunch of clubs. I just really focused my time and energy on six or seven things that I really cared about. And I feel like that was something that really impacted me because it showed my dedication to certain things and I wasn't really trying to do a bunch of things just to say I did them. A lot of people think that, oh, I have to do 20 different classes or be in 20 different clubs, and I have to be the president. It's not really like that. You just have to do what you like. And I did that. And I feel like doing that made me happy in high school, and I didn't really have to stress about the things that I wasn't really, really happy with.
That's a great point. Even 6 or 7 commitments can keep you pretty busy. Can you talk briefly about what each of these extracurriculars looked like to you?
So for basketball, I started when I was in fifth grade, when I was in America, and I really fell in love with it. That was like my thing. Growing up, I loved the basketball or watching basketball, I thought maybe I would go to college to play basketball. But I realized that the schools that were interested in me, I wouldn't really have the most academic quality at those schools. So I'll just find another way to incorporate basketball in my life. For basketball, I was the varsity captain. For tennis, I was the varsity captain. I played four years on varsity. I started when I was six. And I've continued to do it all throughout high school.
And then for theater, that was something different for me, because I never thought I'd be doing theater. My friends told me you should try it. And then I did it. And I ended up really liking it. And then I became the student director for some of our plays. I wrote some plays, and I actually had such a good time. I stepped outside of my comfort zone and really enjoyed it.
My fourth one, which is Peer Court, it's a real court system for minors. I was like an attorney. And I would like be prosecuting or defending a minor who had like a real charge like being out too late or stealing, some minor crime like that.