"The moment that I was like, 'Yeah, I really just want to be a doctor,' was when…the doctor had the baby, gave it to the nurse to clean, and then the nurse gave it to me to give to the mom. I was in tears," says Oklahoman Kareena Patel, a Class of 2025 ED admit to Rice University in Houston, the #1 most selective college in Texas with a 10% acceptance rate in 2020. This week, the founder and CEO of Meducate Youth shares:
How she found an internship that let her help with c-sections and cemented her career goals
Her biggest college essay mistake and what college applicants should do instead
How her parents' love and sacrifices motivate her to give back and make them proud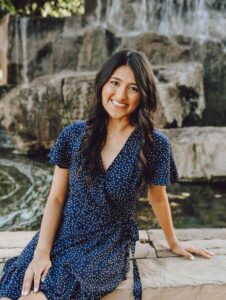 Kareena, can you tell us about where you go to high school?
I am from Sulphur High School, which is in Sulphur, Oklahoma. It's a really small town with about 5000 people and my class size is 91 kids. I've grown up in a really tight-knit community where everybody really just knows everybody else. My community has supported me in a lot of things in my journey, whether through praise, motivation, encouragement, or financially whenever I had to fundraise for things. At the end of the day, we're a big family here.
What's the environment at Sulphur High School like?
High school is really peaceful, for the most part. There isn't a lot of competition. Financially, we are definitely on the lower end of resources and teachers. There is one AP class, and that was just added last year. I'm a high-achieving student. I wanted to push myself to do more, so I started venturing out, talking to my counselor. I enrolled in a Vo-Tech program, a vocational school 30 minutes away. I started going there for the past two years. You can start your junior year, so I started my junior year and started taking biotechnology there. I took biotechnology and AP Biology last year, and AP Environmental Science and advanced biotechnology. I've gained a lot of lab skills through that and outside resources. In the school, there are not enough resources to challenge yourself.
I definitely want to learn more about your Vo-Tech enrollment later. But first, huge congrats on getting into Rice University. Can you share the story of what happened when you found out you were accepted?
It was on December 10. Very scary day. It was a 5pm release. I had school that day and all I could think about was my acceptance or my rejection. This is the day when I find out potentially one of the best news of my life so far or one of the saddest pieces of news because it was my dream school. At 4:30, my heart was beating so fast. Finally, 5pm hit. I logged into my portal, clicked the refresh link, and it said, "View Status." At first all you see is confetti. I scroll down, and the first words were: "Congratulations Kareena, we are excited to offer you admission to our class of 2025." I was just so overjoyed, shocked, happy. My mom was in the living room, so I went and told her. My dad was working up front; my parents actually own a motel, so we live in a motel environment and parents are working 24/7, essentially. I went and told my dad and my dad was super proud. Just seeing that happiness on their face made the day all the brighter.
What an amazing moment. If you had to guess, what got you into Rice?
I think it would be my push for striving for excellence. I have consistently pushed myself beyond my classmates. Coming from a very underdeveloped school really motivated me to do more. Another thing is my essays captured my personality and my soft skills: hard working, self-motivated, outgoing, bubbly. I think in one of my essays I really went into the caring and kind aspect of me because I feel like those two aspects really convey who I am. I really tried to show them not just what I am on paper, but as a person, what am I?
I also think that, in a humble way, I have pretty good extracurricular activities compared to most people, so that definitely gave me an upper hand because I do have a lot. I started my own organization this past summer called Meducate Youth. I'm interested in medicine, so it was basically to demystify the process of becoming a medical physician: doctor, PA, nurse; there are so many different things. Whenever I was looking through it, coming from a small town, I was like, "There aren't that many resources or places to find all this information in a joint collective." That was really hard. So I was like, "You know what, let me try starting something."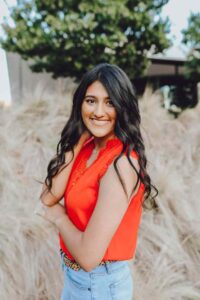 Two years before, summer of 2019, I went to Vietnam for a medical internship abroad for two weeks. That's where my passion for medicine really was ignited. I got to do so many hands-on things in Vietnam. I met a friend there and I called her. I was like "Okay, I have this plan; I have it all figured out, a logo, name and everything. Do you want to join my team?" I had her join, and she became my COO. We had a process and we got five other people on our team.
Wow, you're really a go-getter. So many high schoolers want to do internships but can't find the right ones. Can you share how you found this medical internship in Vietnam?
Summer of 2018, I went to Boston for a congress that I was nominated for. It was called the National Youth Leadership Forum for medical scientists and physicians. It was a four-day event. We got to listen to so many speakers from around the world that were renowned, like professors from colleges and med schools and people who had invented stuff or been a part of the CRISPR technology or were Google Science winners. I'd never been more inspired. It was just so amazing and incredible to be in that setting with so many high-achieving people. It made me so much more confident and made me push myself for more. I had to pay for that congress, and it was a pretty cutthroat thing, because you had to stand in line for hours and it was pretty hard to get and secure your spot.
At the congress they presented an opportunity called The Future Docs Abroad internship. I would be just a rising junior when I would be going to the internship, so I would still be pretty young. I was super fortunate that my parents were okay with that. I signed up and got in all my paperwork, visas, and stuff like that. I knew it was the right internship for me because there was a panelist and so many speakers who spoke about it at the congress; I looked it up on the internet and saw the amazing things that they got to do.
Can you tell us more about what you learned in your medical internship in Vietnam?
During my time in Vietnam, I actually got to see C-sections, hysterectomies, kidney stone removals. I was in the OR seeing everything. I got to visit with so many patients. There were 14 different clinical rotations that I went through. And then I obviously got to also explore Vietnam and immerse myself in their culture, which is just beautiful. And I got to meet 100 other people who were also interested in the same thing that I was, which was medicine. We all connected, and we all were so enthusiastic and coming from different parts of the world. There were all grade levels: high schoolers and some college students too, so it was really interesting to have everyone there share our own experiences, and grow from that.
How did the medical internship help you solidify your career goals?
I think the most surreal moment, and the moment that I was like, "Yeah, I really just want to be a doctor," was whenever I was watching the C-section happening and saw the baby come out. I was so in awe of the process. The baby came out; the doctor had the baby, gave it to the nurse to clean, and then the nurse gave it to me to give to the mom, and that was just surreal. I was in tears. I saw the mom cry. That moment was one of the best moments of my life.
That's more powerful than anything you can learn from a TV show. Before going on your lifechanging medical internship in Vietnam, how did you start narrowing down medicine as a potential future career?
Growing up, I was always a really strong math and science student, so I always knew that I would probably go into STEM. Being a typical Asian falls into that. My parents always encouraged me to try out things, but I really don't have a moment when I was like, "Yeah, I want to be a doctor." Ever since I was young, I was like, "I want to be a doctor when I grow up," but I didn't find my "why medicine?" until I went to the internship. The reason I went to the internship was to really cement whether medicine was the path for me. It definitely cemented that medicine is what I want to do. I didn't want to waste time in the future if it wasn't going to be the thing for me. I love how hands-on medicine is; I'm a super hands-on person. That's how I learn and how I like to do things.
How does someone get nominated to attend the National Youth Leadership Forum for medical scientists and physicians that you attended in Boston?
They told me they got my nomination from taking my ACT. I had scored a pretty good score on it, and that's how they got my name. It's based on your GPA and your ACT and SAT scores. That's how they get your names.
Speaking of test scores, did you ultimately send them to Rice?
In Oklahoma we usually take ACT, so I sent in my ACT scores to all my schools. And Rice super scores so I sent in two scores. My composite was 33, and then with the super score, I had a 34.
Fabulous. I'm sure that set you apart in a time when many applicants didn't submit scores. Earlier you talked about portraying your personality through your college essays. What resources did you use to write your essay?
I'm not the greatest writer in the world, so I was really insecure about my writing skills. There's so much weight placed on those essays. I started reading a lot of articles on the Internet, about Rice-specific essays and just college essays in general. I used the College Essay Guy. I read through so many essays and articles to see how these people write and what they try to convey. It's not like a typical high school essay. It's like a narrative, and I hate to write about myself. I think a lot of us can agree: we just don't like to talk about ourselves like that on paper; that's not fun. It's really scary. But thankfully, I found these good resources I could research. And then I just had to write. Rice was one of the first schools that I applied to. I had applied to OU and then Rice. University of Oklahoma had two essays, which is actually pretty good; they worked out really well. But that was my safety school, so the tension wasn't there. But with Rice, I was like, "This is scary; this is the real deal. This is what I want." So I was like, "I have to really perfect my essays."
How did you perfect your essays for Rice?
I have a funny story to tell you about that, actually. I started my essays a few weeks ago in advance, and I had been thinking about what I wanted to write. For Rice, you have to write three essays: a "Why Rice?" essay, which is 150 words, which isn't that bad, then a "Why this academic area?", "why this major?" basically, which is also 150 words, which isn't that bad. Then the third one is a 500-word perspective essay: "What perspective do you bring to the Rice community?" I wrote that essay on two different topics. I was like, "Let me try out this topic." I was pretty sure about the topic until I had some of my friends read it. They were like, "This is really good, but it talks more about the other person."