"They gave me a profile of the student…I had to evaluate them and come up with ten questions." University of Rochester admissions interviewer, Maxine Humphrey, tells SocratesPost what's included in the profile, what impressed her and what didn't, and the most important traits needed to succeed at Rochester.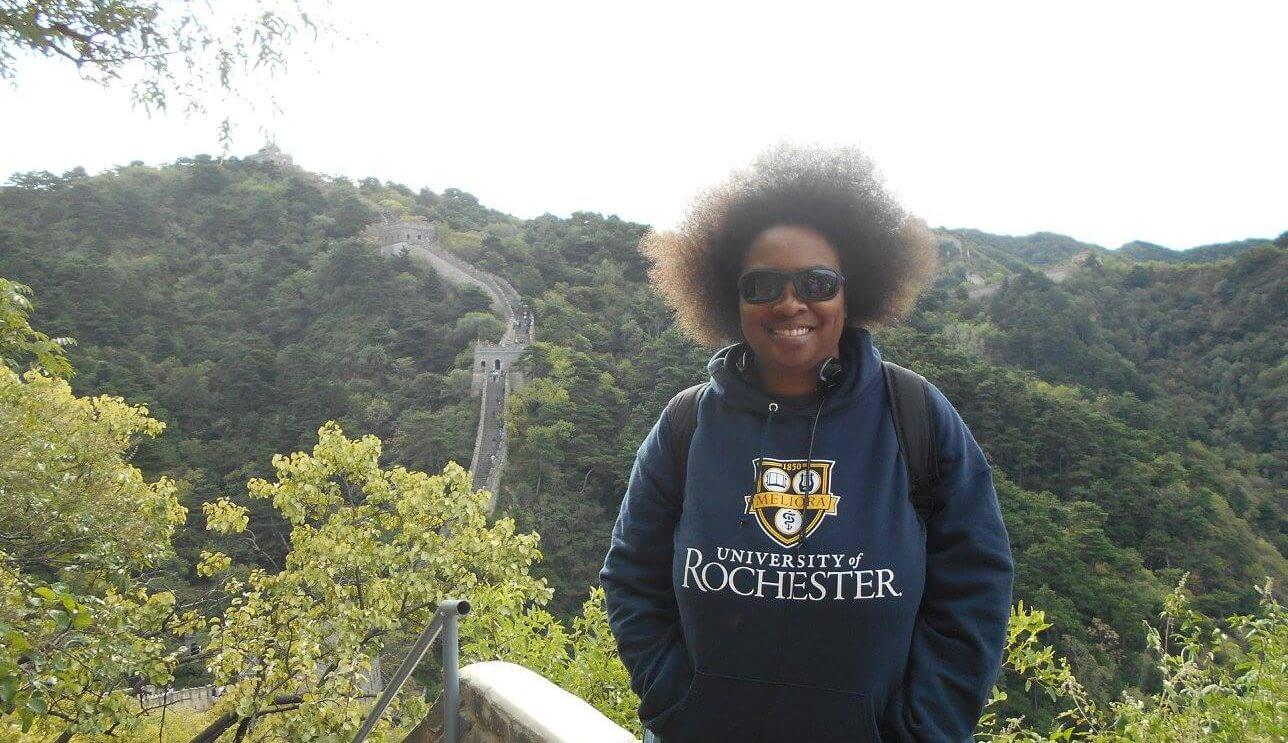 Exclusive Insider Interview: Admissions Interviewer, University of Rochester
SocratesPost: Thanks so much for joining us, Maxine! Can you tell us about yourself?
Maxine at Rochester: I graduated from the University of Rochester with a degree in International Relations, but I first got my experience abroad when I studied abroad through IES Abroad and this spring semester 2012 as a Gilman scholar for the University of Cape Town. I took four courses at the University of Cape Town, mostly in South African politics and policy. And I got an opportunity to volunteer in the township of Khayelitsha, where I was volunteering as a math tutor to disadvantaged ninth graders, teaching them algebra. It was a really good time for me to learn about the history of apartheid and post-apartheid South Africa and the politics there. It was a very eye-opening experience to learn about the different challenges and opportunities that South Africa was facing in terms of development there in 2012.
SocratesPost: What interested you in South Africa?
Maxine at Rochester: I was really captivated by the history, the similarities between apartheid and Jim Crow segregation, white minority rule and how that policy of apartheid came to be. And looking at issues of gender-based violence, they're in South Africa. I just felt like I needed to go there to really learn the history and learn about this interesting place called South Africa. So that's what drew me. It's definitely cheaper to go to South Africa compared to other places in Europe. I always wanted to go to Africa.
SocratesPost: Tell me how your undergrad experience led you to South Africa, teaching in China and then working as an admissions interviewer for Rochester.
Maxine at Rochester: Once I graduated from University of Rochester, I found myself landing in urban education working in the Rochester City School District as a teaching assistant for two years. And that was kind of my way of giving back to my own community because I grew up in urban public schools in Rochester, New York. That was a way for me to get an inside look into the public school system so many years later after I graduated.
SocratesPost: In what ways did you get the inside look?
Maxine at Rochester: I worked there with students who had learning disabilities. I was working with special education students, and it really taught me patience, compassion and understanding, but I wanted to do more. I wanted to leverage my background in international relations and my study abroad experience. I'm like, "How can I take it a step further and go abroad?" The opportunity came up for me to teach overseas in 2016 in China through IES Abroad. They were offering their alumni a chance to teach overseas. I signed up for the program, and I packed my bags in August of 2016. I started working at a public school in Changde, Hunan province in China. It's a small third-tier city, 1 million people. So that pushed me into China.
SocratesPost: How was it adjusting to that?
Maxine at Rochester: Well, I am a Black American. So initially, culture shock hit me, because I see all these Chinese people and when they see me, they're pointing and staring and saying, "wai guo ren, lao wai," foreigner. I was just like, "Oh wow, I'm really in China now." I had to definitely adapt and learn some of the customs and the foods, ordering jiaozi, dumplings all the time and learning how to navigate the city on my own. But it was overall good experience. I loved the kids that I taught. I taught middle schoolers, seventh and eighth graders, in a public school. I had my own apartment, my own dorm on campus; it was kind of like a boarding school setup. Most schools in town are kind of like boarding schools. I created my own lessons. At first it was tough. We had a curriculum in place, but it wasn't a great book, kind of outdated material. So I really had to become creative and create my own lesson plans and really teach the students about anything and everything about English and making real world connections with English into the general society.
SocratesPost: Did you teach them in English or Mandarin or both?
Maxine at Rochester: Basically, I taught them in all English. It was full immersive English.
SocratesPost: What were some of your observations from that experience?
Maxine at Rochester: What I noticed with the students is that they had a pretty good understanding of reading and writing in English. But most Chinese students, most of my students, struggle with listening and speaking in English because they don't have the chance to practice outside of class. So that's where we had English Corner sometimes. We would have English corner where they would practice just talking English. We played fun games, just to get them more comfortable speaking English because when they go out, go back home, their parents won't speak English, so it's hard for them to practice.
SocratesPost: Did you have a lot of creative directive with your students?
Maxine at Rochester: Mm-hmm. Definitely, definitely. And my second year in China, I switched schools; I wanted to be in a bigger city. So I started teaching… I got a job offer at a Canadian international school in Shanghai, out in the suburbs of Shanghai. And that was a really different experience. They had a strong curriculum in place, and it was kind of like a private school setup. I had my own dorm, and just got to do a lot more activities after school with the students. Definitely English Corner. I created an after-school program for students who were struggling with their English in class or English speaking skills in class to help kids get on track, so that definitely fun.
SocratesPost: What inspired you to stay in China for three years instead of going back to the U.S.?
Maxine at Rochester: Yeah. The benefits are pretty good working as an ESL teacher in China. The Chinese have numerous paid holidays. There's the national holiday, the Golden Week in October—you get a week off in October—and you also get paid winter break. So during the winter breaks, I would go to different countries. I have been to India, I've been to Vietnam, I've been to Thailand twice, I've been to Australia, I've been to Indonesia. And then I went back to South Africa this past January, when I was still in China, for relatively cheap. So the travel benefits were great. And I also wanted to get international work experience. Because in the future, it'd be great to work for the State Department or work internationally again in some kind of capacity. So I looked at that as a preparation for other expat opportunities in my career in the foreseeable future.
SocratesPost: When you were in China and South Africa, how did you stay in touch with the University of Rochester?
Maxine at Rochester: Good question. I'm on their mailing list for their alumni. And they always asked for volunteers during recruiting season during the fall, in my first year in China. I was like, "Well, I'm here in China." I reached out to U of R, University of Rochester, and was like, "I'm here in China; how can I get involved as an international alumni interviewer?" And I got in touch with the international admissions director for that part of the world in China. And he said, "You can do Skype interviews." So my first year in China, I was doing Skype interviews, because I wasn't in Beijing or Shanghai, the two big cities that they can just do in-person events when they go recruiting. I did a couple of Skype interviews and it was interesting.
SocratesPost: what were your responsibilities when interviewing applicants to Rochester?
Maxine at Rochester: They gave me a profile of the student, their academic background or extracurricular activities, and basically I had to evaluate them and come up with ten questions. And do a face-to-face, little Skype interview with them, and write down my responses and then write up kind of an overview of the interview and whether or not I think this person should attend the University of Rochester; whether or not they'd be a good fit for the University of Rochester.
SocratesPost: In regards to the questions you asked the candidates, were those questions you wrote yourself or were they assigned by the admissions office?
Here's a preview of the rest of our conversation! Subscribe to read the rest and support our ad-free newsletter.
SocratesPost: What else were you trying to look for in these interviews?
…the University of Rochester is a very good research university in the STEM fields.
SocratesPost: When you received a candidate's profile from the regional admissions director, what information was included in their profile?
SocratesPost: What information did you have about their tests and academics?
SocratesPost: How did the admissions office train you to be an interviewer?
SocratesPost: Can you tell me about some of the most interesting prospective students you met?
SocratesPost: What was she expecting?
SocratesPost: What was your impression of prospective students who asked you questions like that?
Stay tuned for the remainder of our exclusive insider interview with admissions interviewer, Maxine Humphrey!