"My dad is just a pretty strict guy. That helped me a lot in terms of in terms of learning discipline and hard work,"
said Gabriel Aguero, son of an economics professor at University of Connecticut, who got into UChicago and UPenn this cycle. The 4.0 student who excelled in finance and economics earned a 1520 SAT and five AP scores of 5.
What you'll learn:
Gabriel's biggest regrets in college apps
What strict parenting from professor parents meant to Gabriel
Was all the hard work and sacrifice worth it?
What stood out about Gabriel's app
I think that what really made me stand out was a clear passion shone throughout my application — a passion for economics and finance, but mainly economics. I had a lot of extracurriculars and things that I achieved relating to economics. And I think the quantity and also the quality of those extracurriculars all led to one big passion, and then how I explained that passion in my essays, as well. I think that my application kind of had a theme, a clear story. It was obvious what my passions were and what I wanted to do.
How Gabriel found a passion
The thing that made me discover my passion was a macroeconomics class that I took my sophomore year of high school. It was a college course, so I was challenged at a very early level. I enjoyed  a lot of the assignments. Then the pandemic hit. And that's when I really started getting into a finance related stuff like, like an investing simulation that we did. That definitely had an influence on me, and it transitioned from finance related things to more theory based economics.  I did an independent study my junior year on international economics. And then I also started the economics club my junior year.
Strict parenting from parents in academia
My dad's a Peruvian immigrant. And my mom was born in Minneapolis. So I think I got two very different parenting styles.
But overall, both of them really wanted me to succeed, not only because they wanted me to succeed, get into selective school, but because they knew that that's what I wanted. And they wanted to help me achieve that goal as much as possible. My dad, especially so, was really, really essential for a lot of my success in the college admissions process, because if there was a sleepover with my friends on a weekend, but there was a test, he was like, "No, you can't go. You have to study." I endured a lot of those types of moments. I told him, "I really hope this pays off," and I'm happy that it did, but my dad is just a pretty strict guy.
That helped me a lot in terms of in terms of learning discipline and hard work. And so he set those habits at the beginning, like in my sophomore year, but then I think I really kind of just took it onto myself and made it my own duty to work hard. My parents are both in academia. The university and the importance of education had always been very, very prominent in my life.
How he narrowed down a college list and chose UPenn
I actually created this big spreadsheet with the different factors that I want. I  assigned numerical values to each attribute: location, campus size, earnings of the major that I wanted to do, career trajectory and finance. And a lot of just basic ones like food, stuff like that. And originally, Harvard was the number one, overwhelmingly. I went and I toured a lot of these colleges. And I felt like a lot of the colleges that I toured I didn't really connect as much with. And I didn't really feel at home particularly at Yale. I don't know why, but I think maybe because it's also in Connecticut, and I live in Connecticut, and I wanted to kind of go to a different place.
I talked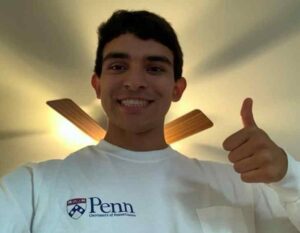 with someone who went to UChicago who said they would prefer to go to Wharton. And so that's what really got me interested in UPenn. My visit was very last minute, a week before my application deadline. I actually had a family friend who went there, toured around with him. I saw the campus, loved everything, loved the opportunities.
The first and last sentences of Gabriel's personal statement
The beginning sentence was the quote