"I'm that social nerd who definitely is good with tech and computers, but also is fun and likes to play games," says Yale University Class of 2025 EA admit, Justin Dominic. When the LA-area senior isn't hanging out with his buddies and earning straight As, he leads a Science Olympiad and robotics team and manages digital publishing for his school newspaper.
This week, Justin, one of 837 global admits to Yale EA, shares:
What he believes got him into Yale's most selective class yet
The golden convos with his family that helped him write a stellar essay
How his parents' lax yet supportive approach to college led to his win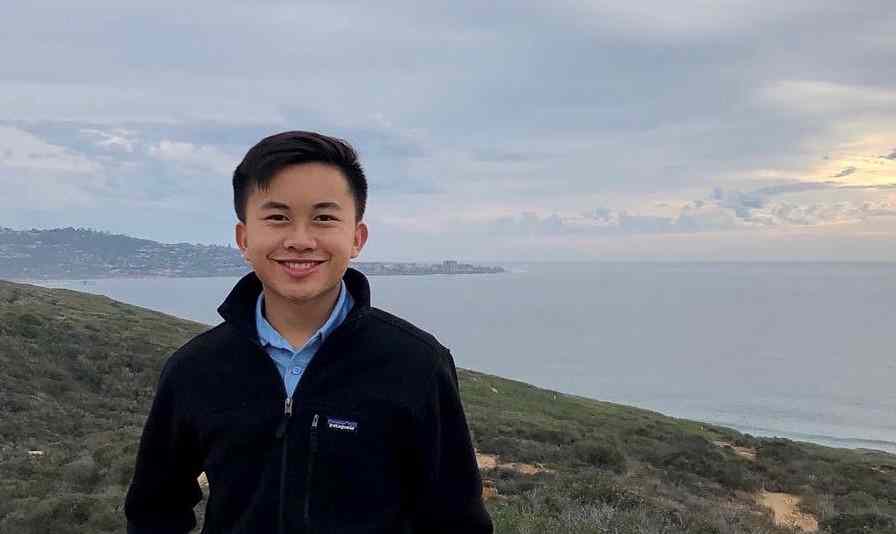 Justin, tell us what happened when you found out you got into Yale.
The night before, it took me three hours to fall asleep. I woke up four times over the course of the night just because I was so anxious. When I woke up, I was just pacing around the house whenever I had a break from school. My mom was like, "Just calm down, you're too stressed, everything will work out just fine." Then I remember I got the email. It was around noon. It said "update to your status portal." My parents were both home, but they were actually out on a walk and I didn't want to open it alone because no one else was home. I remember I called them. I was like, "My decision just came out, but I don't want to check it yet. So can you guys come back home?" I waited until they came back home. It was a super anxious 15 minutes or whatever. I recorded the decision, too. I went in my room; I opened the decision. The first thing I saw was "congratulations." I was kind of in shock. I ran outside my room and hugged my parents. It was really just the most surreal experience and the biggest burden off of my chest. I'd spent the last six months working on college apps and just really having that worry of whether or not I'm going to get in, where I'm going to go.
Did you have any gut feeling about what the notification would say?
What's really funny was that I had merch and hoodies and all this stuff for all these schools, but Yale was the one school that I didn't have anything for. I didn't want to jinx it. I think there was a part of me that was like, "That's just how it's going to work out. The one school that I was too afraid to get any merch or hoodies for is going to be the one." I had that intuition, and that is how it worked out.
Amazing. So tell us your story, starting from your high school. Can you describe your experience there?
I'm from Los Angeles, and I go to school in the downtown area. I go to Loyola High School. It's a Catholic Jesuit high school, and it's an all-boys high school. We have around 1200 students total. One of the nice things about our school specifically is because it is in downtown, we can pull students from really any part of the greater Los Angeles area. I think there are more than 220 zip codes represented at our school.
What do you like most about Loyola High?
What I've really appreciated about pulling people from so many different areas and different backgrounds is seeing some of the greater diversity that's in the Los Angeles area and interacting with that on a day-to-day basis. That's really been helpful, because I get to talk with people that are from other parts of the city. There's a lot of racial diversity, socioeconomic diversity, diversity of thought. That's really helped enrich the quality of conversations that I've been able to have in high school and enrich the quality of the friendships I've had. That's also something that I'm really looking forward to attending a school like Yale.
What made you want to prioritize Yale?
One of the things that really drew me to Yale is their big focus on the residential college system. I really liked how everyone talked about how their residential college is the best, and they have a friendly rivalry going on. Their residential colleges built this really strong sense of community. Our school likes to pride itself on our sense of brotherhood, coming from that all boys background. When I toured Yale and talked to my friends who are there and current students, got the vibe that it's more collaborative as opposed to competitive.
I felt like at Yale, I wouldn't have to box myself into one specific thing, but I could really explore different interests that I have and the intersection of these different seemingly different areas. I felt like Yale would be a really good place to explore that and to also dive deep into what I'm interested in. And also have a good relationship with my peers.
What was your relationship with your Yale admissions officer, if any?
I don't think I made an explicit attempt to have an interaction with my specific regional admissions counselor. Pre-Covid, they would visit our school, and we could get out of class and attend their little information sessions and get to know them. I got to do that with a couple of different schools that were also on my list. Recently, because of Covid, it's been a virtual thing. They'll have Zoom sessions with my school and I definitely took advantage of those opportunities. If I had a question regarding a specific school, I would try to find who my admissions officer was and just send them an email.
If you put yourself in the shoes of the Yale admissions committee, what got you in?

If if I had to guess, I had a lot of the basic stuff, like working hard in high school getting good grades. I did pretty good. I had relationships with my recommenders. I think the biggest thing in terms of my application was I spent a lot of time on those essays. And just poring over them over the past six months. That was every weekend. So it's a lot of pain. And I think with those essays, I was able to kind of really get who I am and my personality across. I got to really show a lot of the different aspects about myself.
What were all these aspects of yourself you wanted to share with Yale in your essays?
I'm a kind of a STEM guy. You can see the periodic table behind me, but I was definitely able to really talk about that and how I love technology. I think I had a pretty consistent demonstration of just how much I love technology. I also made an effort to show that that's not only who I am.
I love hanging out with my friends. I love being social. I love being with people. I love activities where I'm able to engage with other people. And I think I really got to show that multidimensionality. And I think that that was probably the biggest thing. And I think I had a cohesive narrative throughout my application about how I'm that social nerd who definitely is good with tech and computers, but also is fun and likes to play games.
When you said you did "pretty good" in school, what does that mean?
I got all As through high school. I also tried to take the classes that interest me, like my APs are definitely more STEM heavy.