Most students know that taking AP courses and excelling in them show colleges you're ready for college-level academics. Many students don't know how AP courses actually function once you're in college. I'm happy to walk you through that today.
What's an AP course?
First, the basics. What is an AP course? A college-level academic course given to high schoolers with the option of passing a national examination at the end of the course to earn college credit.
Here's a list of AP courses and exams offered by College Board.
The self-study option
If your school does not offer an AP course, you can still take the AP exam in May. You will likely have to find another high school that offers the exam, register for the exam, and self-study. If you self-study and do well on the exam, you will have the option of taking fewer classes to graduate college (and graduating earlier) or skipping intro-level classes (and advancing quicker to upper-level, specialized college classes).
I did this as a high schooler. I self-studied for an AP test that my high school did not offer, drove an hour to another high school to take the exam, earned a 5, and used that credit to fulfill college graduation requirements after I got into Northwestern.
Your chance at college credit
If you only take the AP class at school and do not take the nationally-administered AP exam at the end of the school year, you will not earn any college credit. Please keep this in mind.
The test is graded on a scale of 1-5, with 5 being the highest. A score of 3 is considered passing and equates to earning a C on an intro-level college course. Most colleges, however, will only grant you credit for scores of 4 or 5. Highly selective, rigorous colleges will only grant credit or allow you to skip over intro-level courses with a score of 5. Some schools will even grant waivers for scores of 1 or 2, permitting you to skip over those classes simply because you attempted (and failed) the AP exam. These are typically state schools.
How do you figure out how each of the colleges on your list will recognize your AP scores? Will you get any credit for the AP exams you passed? Should you aim for a 3 because you'll get the same college credits as your peers who earned a 5?
I'll answer that below.
First, I'll walk you all through my personal experience and then do a case study using different schools as an example.
How AP test scores translate into college credit
The easiest way to figure out how AP scores factor into getting college credit is by either 1) going to the AP credit score policy page and typing in the specific universities you have in mind or 2) going to your university website and searching AP scores. Although the second option (going to the university website) might be more time-consuming, it's more likely to be updated and detailed.
Let's use Northwestern University as our first example then we'll check out Brown University, Harvard, UC Berkeley ending with takeaways and advice on avoiding comon pitfalls.
On the AP website, the Northwestern score distribution looks like this on the AP Credit Recognition chart.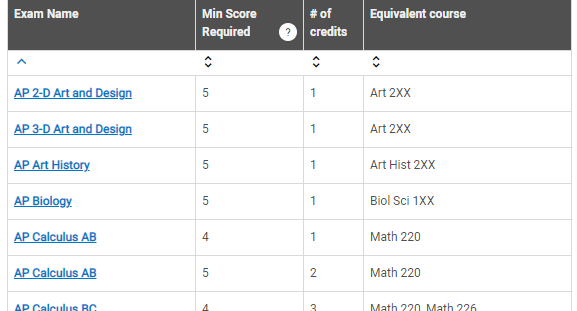 On the university website, it looks like this. Both screenshots were captured in January 2021.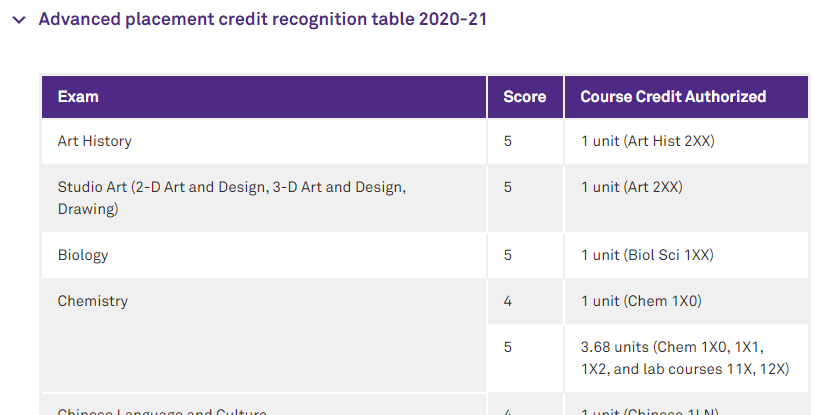 In order for this to make sense to you, you will need to know how many units are necessary for graduation and how many units students typically take per term (either semester or quarter).
At Northwestern, students must complete 45 units. Each class is generally worth 1 unit. There are 3 academic quarters in a year (September to December, January to March, April to June) and full-time students take between 3-5 (though typically 4) classes per quarter. This means you can complete between 9 to 15 units per academic year.
Don't forget: the Undergrad Registration Requirement
Don't think you can take all 26 AP tests and get college credit. Every university has something that functions like Northwestern's "Undergraduate Registration Requirement." It's the minimum number of college credits you must take on Northwestern's campus. For a typical 4-year undergraduate degree, you're allowed approximately 13 transfer credits, which includes AP test credits and classes taken at other universities.
Ultra-selective schools & AP scores
Now, going back to the AP Credit Recognition chart, this is where you determine which classes or units the university will give you in exchange for the requisite.
In high school, I earned 5's on AP English Literature, AP English Language, AP Art History, and AP Chinese Language. This allowed me to start college with 7 out of 45 units completed, which is essentially two quarters worth of classes. It would have been easy for me to graduate an entire year or more earlier than my same-class peers.
Merely passing an AP exam with a 3 will not help you much at a rigorous school like Northwestern. If you look at the chart, you'd have to get a 5 in almost all AP exams to earn any credit at all. For a subject like chemistry, however, a 3 or 4 on the AP Chem exam will earn you credit but not as much credit as a 5. Scoring a 5 translates to almost 4 college units, as opposed to just one unit with a score of 3 or 4.
That said, it's important to note that not all schools treat AP scores like Northwestern.
Brown University, an Ivy League school, does not give you credit for successful AP exams, but will allow you to take a higher-level college course instead of the intro-level course. See below: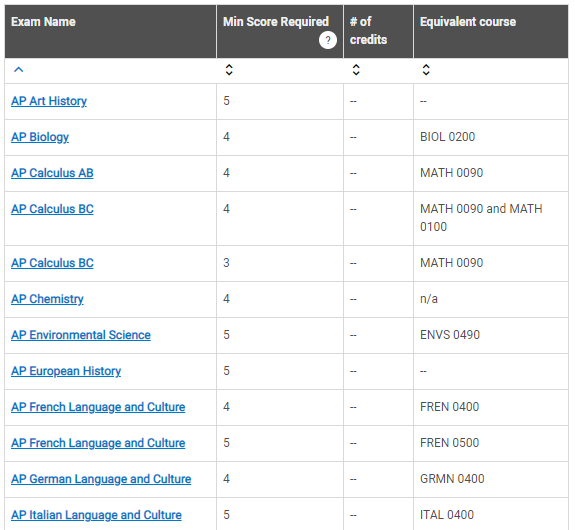 Harvard, on the other hand, will not consider anything less than a 5.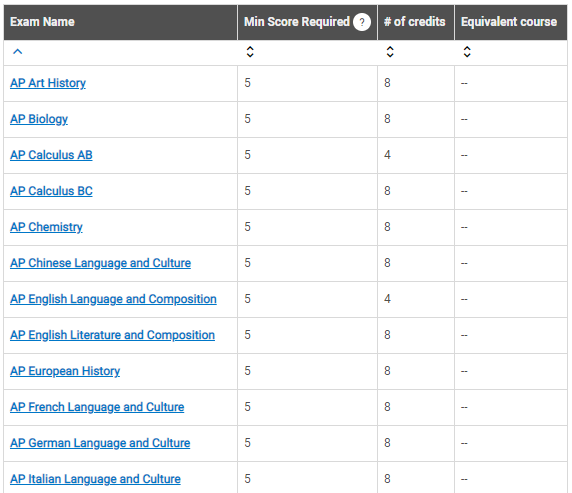 Alternatively, Berkeley will give you college credit for scores as low as 3, one of the more generous elite colleges in terms of rewarding students for high AP performance.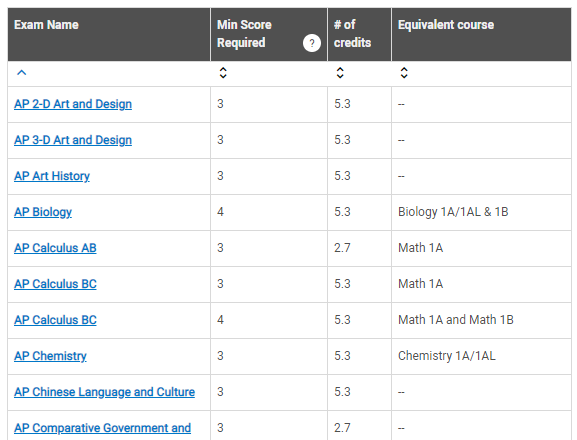 Michigan State University will even give you course waivers for scores as low as 1 and 2. This means you don't get college credit, but you can skip over intro classes for more advanced, higher-level classes.
4 big takeaways: what next?
Research in advance. If graduating early or paying the least amount of tuition possible is vital to you, it's imperative to research how each school on your list will treat your AP scores. The more selective or rigorous the school, the less likely they'll accept lower AP scores or give you college credit. Note that a school that accepts an AP test score will not necessarily grant you credit. They may only allow you you to skip over introductory college classes.
Ask the university, not AP. Details like the school's policy on how many units you must take on campus or the maximum of units you are allowed to transfer can only be found on resources from the university itself, not the AP website. If it's not on the university website, you ought to call the registrar or student affairs department. This information will not be found on the AP website.
Self-study. If your high school does not offer a certain AP course, you can still self-study for that test. You are not precluded from taking the exam in May even if you haven't taken the course.
Know the implications of each score. Getting a 3 vs a 5 on the AP exam can have vastly different implications when you're getting credit. Remember, at a school like Northwestern, a 3 or 4 on AP Chemistry earns you just 1 college unit, while a 5 earns you almost 4 units. At other schools like Harvard, scoring less than a 5 means nothing.
Starting college with nearly two quarters completed gave me the flexibility to participate in 4 internships and 2 study abroad exchanges. I didn't want to graduate college early per se nor did I have big concerns about paying tuition. I did want to create as fluid of an environment as possible, which was made possible by starting college with sophomore standing.