Colleges without minimum GPA requirements still have GPA expectations.
For example, UVA says, "We don't have a minimum GPA… As strange as these answers sound, they're both true."
But even then, the average GPA of admitted UVA students who enrolled is a 4.31 out of 4.0. 90% of these individuals had at least a 4.0 out of 4.0. Only about 2% had a 3.5 or below.
So when colleges insist that there is no minimum GPA requirement, remember that there is still a GPA expectation.
How do we figure out a college's GPA expectation? Let's go over what NOT to do first.
Don't: Trust the first link you see on Google
Most college applicants simply search this on Google:
"admitted GPA [college name]"
Then they take the first answer they see.
For example, when we type in "admitted GPA SDSU", we see a big snippet from College Simply stating, "The average high school GPA of the admitted freshman class at San Diego State University was 3.6 on the 4.0 scale."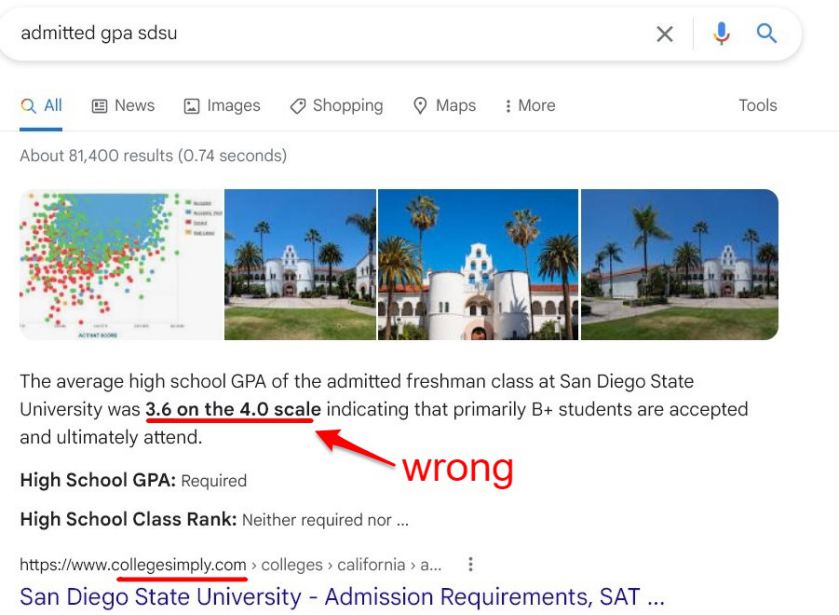 We scroll down a little and see an article from Prep Scholar deeming the average GPA a 3.77.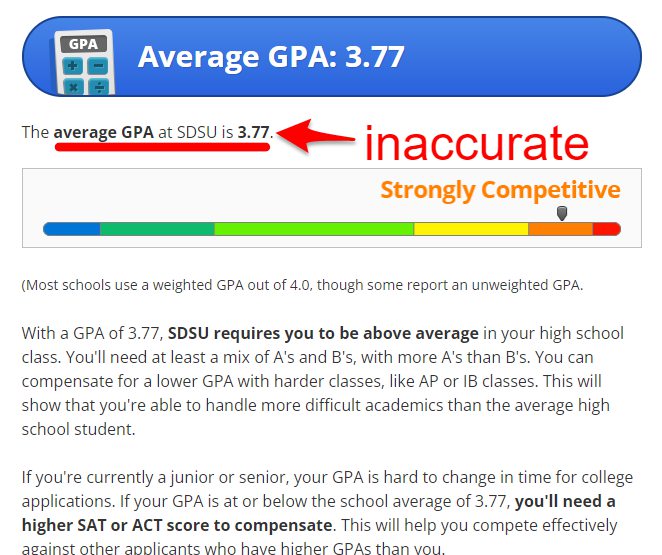 Most teens are not very media literate and assume that if the answer is featured by Google, it must also be the most reliable and accurate.
Reading College Simply's 3.6 might have caused an applicant with a 3.65 to sigh a big but false sigh of relief, thinking he or she performed better than the average admit.
This is untrue. College Simply and Prep Scholar are not primary sources of information.
Do: Dig into primary data sources
Instead of believing the first few links to pop up in Google, let's look for primary sources of