"I wrote about how fencing and wearing my mask and putting on my white gear took away so much of the insecurities I felt," says a New Yorker-turned-small town Ohioan, Fatoumata Sow. A Denison junior and financial aid rep, she delves into her biggest college admissions regrets, campus Covid successes, and best advice in part 2 of our interview.
The incredible essay that got her into a top LAC with a mere 28% acceptance rate
Why it matters to choose a college in a state with a high minimum wage
Denison's unique yet effective method of getting students to comply with Covid rules
To catch up from part 1 of the interview, click here.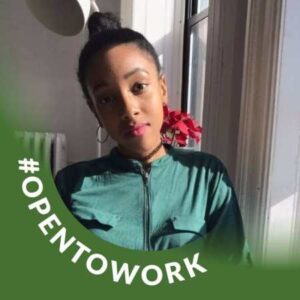 What exactly about this New Yorker's college essay got her into Denison, a selective liberal arts school with just a 28% acceptance rate in 2019?
"I picked the question, 'What was the moment that influenced your life?'" Fatou said. Originally from Guinea-Conakry in West Africa, she explained that women there are considered second-class citizens. Fatou's family wanted her to get married young, never mind attending college.
"It was the summer before I applied to college and I had written about speaking with my aunt. She told me how she had wanted to become a doctor when she was younger and had so many dreams and ambitions, but people just had never let her because she got married when she was really young," Fatou recalled.
Understanding the grave consequences of her aunt's personal choice sparked Fatou to push back on those societal expectations and prioritize working hard for herself — particularly, as an athlete.
"I wrote about how fencing and wearing my mask and putting on my white gear took away so much of the insecurities I felt about being a person of color and about my grades," Fatou explained. "When you're on the mat, it's just about you and that person. I feel it gave me power in so many ways to be able to speak up for myself and learn to communicate with others."
While she was proud of the confidence she'd gained from fencing and how authentically she wrote about it, Fatou still didn't get into every school on her college list.
Her only regret, though, wasn't getting rejected. It was not asking for feedback.
"After getting rejection letters, I wish I had called them back and had been like, 'Hey, what was it about my application that I could have done better?'"
Fatou never needed to ask that question to Denison. After getting accepted and visiting, the New York City-resident moved over 500 miles to the small college town with fewer than six thousand people: Granville, Ohio.
"The one thing I always said was I never wanted a small school. That was my worst nightmare," she recalled. "But I just came to visit the school once, I fell in love with the community and the environment. When it came down to picking, my financial aid at Denison was really good. But they also just gave me the opportunity to experience something that I've never experienced before, which is living in a small town and seeing just what experiences I can make out of it."
Before falling for small-town charm, though, Fatou warned applicants to think about the availability of jobs in their colleges' surrounding areas, especially for those applicants needing the pocket money.
"See the minimum wage that the state has. That is something I wish I looked at and knew before I went to college."
Students depending on a college job to pay for personal expenses or save for future loan repayments shouldn't only look at the school's merits. If a financial aid package comprises an on-campus job, check its constraints and limitations: is there a weekly limit? Wage cap? Or another restriction that could impede their college experience?
"That's always why I wanted to go to a city because Ohio is $8.70 minimum wage. You want to still be able to afford things and it was only 10 hours maximum per week that students can work. So that was definitely a constraint."
While job opportunities may be more plentiful and restricted off-campus, Fatou still warns them to consider the challenges of working part-time jobs in larger nearby cities.