"I didn't read any sample essays until I wrote down a couple of my own essays. I didn't want to get into a mindset of: 'an essay is supposed to look like this.'" says Navpreet Singh, one of the 4.8% of applicants admitted early to Massachusetts Institute of Technology's Class of 2025.
This week, the Hicksville, New York high school senior studying pre-med shares:
How the "don't look" approach to writing essays earned him admission to MIT
The steps to pivot and excel in his STEM extracurriculars despite Covid shutdowns
Why, even after getting into MIT, he still feels self-doubt.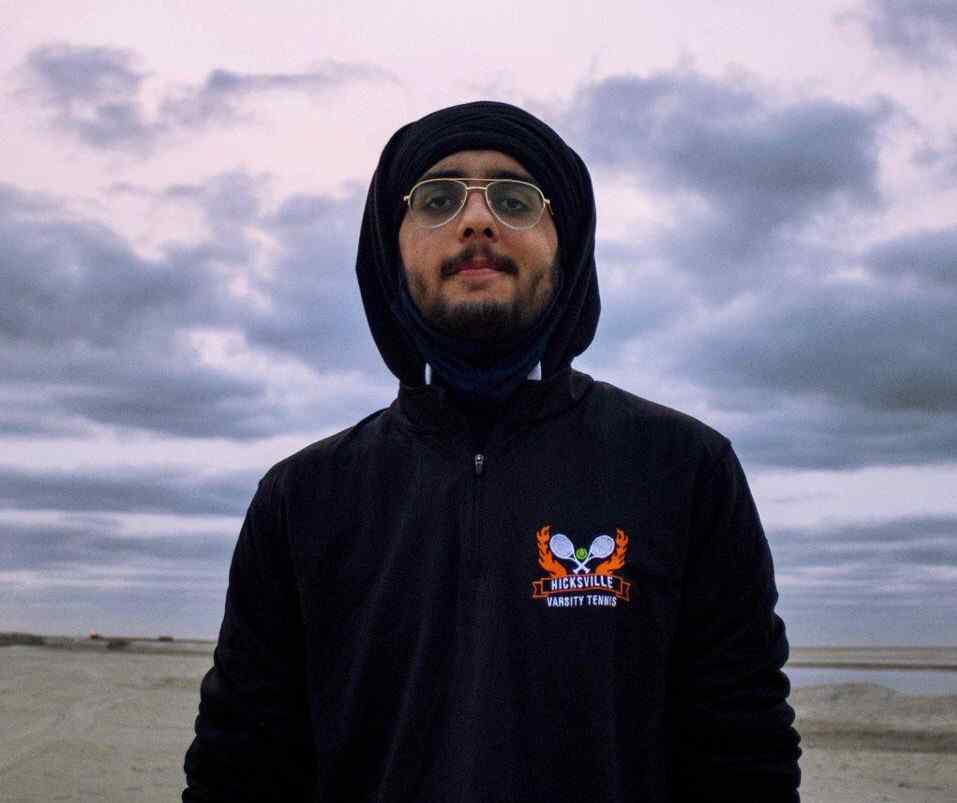 Navpreet, what happened when you found out you got into MIT?
It was 3:14 on Saturday, December 19th. I had been deferred from a couple other schools before. I'm like, "Okay, MIT probably no chance," and so I decided not to record it. I had recorded the earlier ones, and they weren't very happy. I was watching Netflix before that trying to get my nerves down. At 3:14 I opened up the portal, I see confetti going down the page, and then I saw the word "admitted," and then I started screaming like a lunatic, to be honest.
Was your family there to receive the good news with you?
My entire family thought something was very wrong and they rushed upstairs. I told them I got into MIT and picked up my dad off the ground, hugged my mother and my brother, and 10-20 minutes later I told my two closest friends over FaceTime. After that, it was a whole day's worth of the celebration. I was supposed to work that day at four o'clock, but I called out because I said, "I'm not going to work today; I got into MIT."
What an amazing story. Let's back up a bit. Can you tell us about your high school experience?
I go to Hicksville High School in Hicksville, New York. There's only a certain clique of kids who do AP classes. That's the only kids you see most of the time, those 60-70 kids who take AP classes in a grade. You made a lot of friends that way, you become acquaintances, help each other out in tests and stuff.
But most of my friendships came from extracurricular activities, and I think that's something that many people at high school share. I do a lot of STEM competitions: robotics, space robotics, science Olympiads, I'm president of Science Olympiad, etc. So that clique, since seventh grade, we've all been together and gone through the same experiences. I think it's a very good culture of cooperation through competition.
Speaking of your extracurricular activities, how did you continue to be involved despite Covid?
We did try to change the way we do things to fit and go around the coronavirus pandemic. For example, our robotics club, we decided to use the 3D printers we have to print face shields for local hospitals that are in need. In Science Olympiad, we decided to do everything virtually. We have virtual meetings run for specific events, and that adds up to the same amount of time that it would in a regular school year.
Three of my friends and I decided to start an organization to help during the pandemic by trying to teach science to young students through Google Meet and doing experiments to try and inspire critical thinking. We thought that having six months virtually was not going to allow for much science education and a lot of hands-on experiences. We thought to fill that gap, especially in our community. We were thankful that we were able to expand to other communities across Long Island and other states. That was very nice. I think by accepting it as a challenge you want to overcome instead of giving up and being like, "Okay, I can't do anything," is the mindset you need to have in order to get to do something like this.
How old were these students your organization taught and mentored?
It was second to seventh grade. We started in our community. The organization is called Future for Young Scientists. Myself, my friend Aric Peng, Fiddi Hilmi, and Serena Lam, we started it. If you go to futureforyoungscientists.org, that's our website. We started in our community, but we've had kids from Atlanta, West Virginia, all over the country, through the relationships our friends had. We were like, "Oh, you have a friend, you have a cousin who's this age, try to get them in our organization."
Thinking back to the beginning stages of college planning, how did you narrow down your college list?
I started my college process through QuestBridge. I started through their College Prep Fellows program for juniors. That helped me get access to go to college fairs with very top colleges like MIT, Columbia, and Yale, which were my top three. Then I went through the college match process, became a finalist, but I didn't get matched. I got deferred from all four of my schools. But Columbia and MIT decided to defer me to ED and EA respectively. I got deferred again from Columbia, but I got in through MIT EA, and that was my application process.
In terms of narrowing my college list, there were two lists: my QuestBridge list, which were the four top colleges I wanted, and then my regular list, which was essentially safeties and colleges that I want to go to if I don't get into the top four schools that I chose: Tufts, Johns Hopkins, etc., which were not on the top QuestBridge list either. I didn't have to narrow much.
Why did you end up prioritizing MIT?
It's definitely the culture. If you go on the website, they have the sense of humor of a typical nerd, which is something I share a lot. Once I got in, I went into the MIT Discord, and everybody has a very, very nice sense of humor, and very, very chill. But you also know that these are the smartest people in the world. So I think definitely the culture is what attracted me to it. However, I never thought I would get in. But I was always like, "Hey, what if I got in? These people are great at everything. They're really funny. They're really chill." One of my friends from last year also got into MIT, so she helped me learn what people there are like, and that really helped me try to prioritize MIT; it was definitely the culture.
What was it like for you to do virtual visits now that travel and campuses are shut down?
My friends and I wanted to go to Boston because a lot of them have dream schools that are in Boston: Boston University, Harvard, MIT. But that got canceled, obviously, due to the pandemic. Virtual visits, although they did the best to replace an actual experience, were nowhere like real thing. For example, I actually got to visit Columbia because I do live in New York and it's not that far away. And actually seeing the campus around you and seeing the minor little details around you is definitely a thousand times better than virtual visits. However, if you really want to go to a school, you will fall in love with that school even through a virtual visit, because you'll get to see the most important things about that school that really make it different.