"University is struggling, the business model is not working." Chief Operating Officer and Executive VP of Claremont Lincoln, Joe Sallustio discusses what doesn't work about the university business model, how higher ed is changing before our eyes, and why colleges should be training students for jobs that don't even exist yet.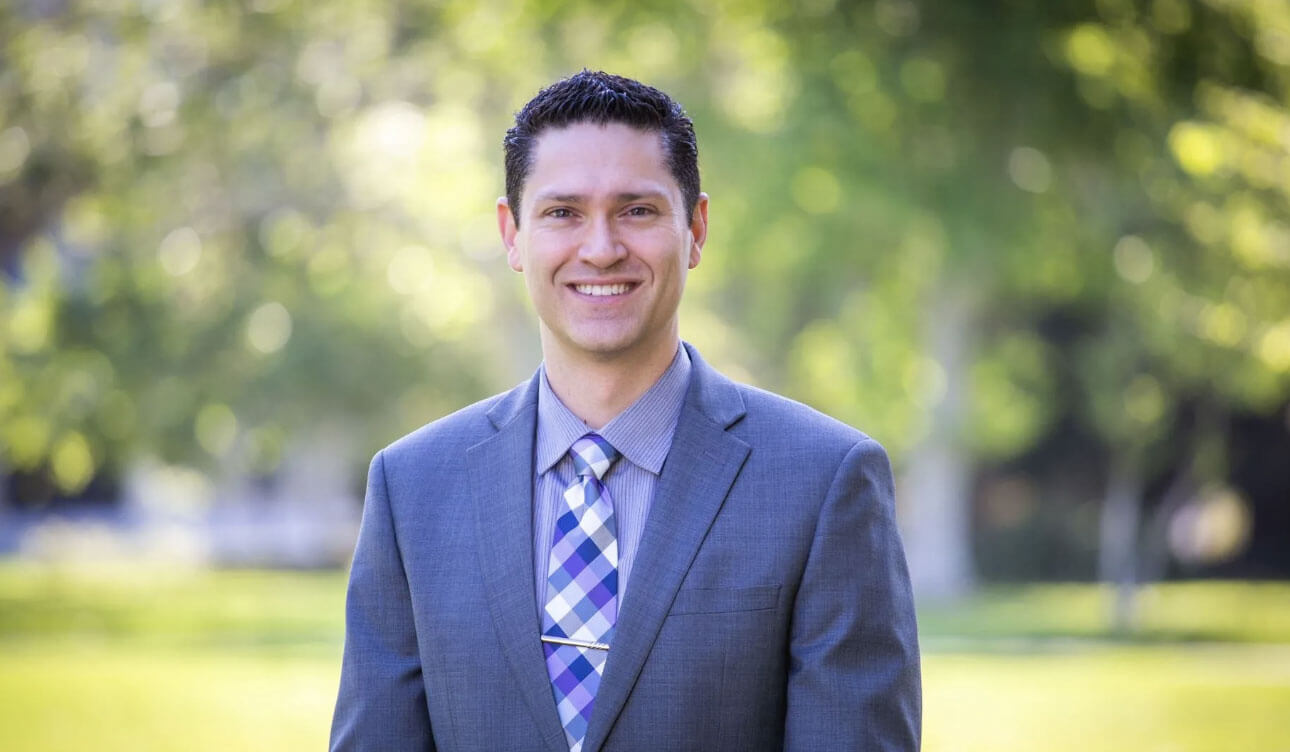 Exclusive Insider Interview: Chief Operating Officer and Executive Vice President, Claremont Lincoln University & Host of Admissions Live Podcast
SocratesPost: As the COO and EVP of Claremont Lincoln University and host of the Admissions Live podcast, what's a day in your life like?
Joe at CLU: Wow, that's a good question. And I think it really varies depending on the needs of the organization. Some days the majority of my time will be looking at data analytics, student surveys, the technology, and preparing for an incoming group of students, making sure all those important areas are ready. The last thing we want to do is have a student come to class, and we're a fully online university, so our classroom is the online environment, so we don't want to have a student come on their first day and have a link that doesn't work or have trouble with their password and username. I tend to make sure the practice drills are happening to prevent these issues on day one. I also spend a good portion of my time in a more external role, developing University partnerships and networking, especially since this is a university that is making a name for itself; we don't have a 150-year history. We were really conceptualized by a single donor, a person who is donor and a founder. We began in 2011, so, we're a newer university. We're trying to make a name in a hyper-competitive industry with lots of huge players and lots of online players. So, I spend a lot of my time with external development, not donations or fundraising, but more asking how we can bring our degrees to a company that has tuition reimbursement or offers some employee benefit to their stakeholders. I also do some finance, ensuring that our tuition is coming in, that we're paying our bills, paying our employees, and that we don't have any employee issues.​
SocratesPost: What's your biggest bill that you have to pay?
Joe at CLU: Easy. Our biggest bill is our building. Our founder and funder got together to create the University. Our donor, David Lincoln, is the namesake of the university, the University of David Lincoln. He gave us a significant amount of money to begin this university and a large chunk of that money went toward buying a building in Claremont, California that would be the future home of the university. So, the biggest bill I currently pay is the construction bill, because it was an existing building that is being completely redone and refurbished to be the home of a 21st century online university.
SocratesPost: Do you ever think it's ironic because it's an online university, but you're spending most of your money on a building?
Joe at CLU: No, you must have a physical location somewhere; you have to have a place to operate from. I think that as an online university, it's important to have a physical location, that there is a certain amount of cred that goes along with it. Grand Canyon University is a good example of that. Grand Canyon University has more online students than on-ground students. Their physical location was a secondary thought to their online expansion, but it does give them credibility. And so I think that's what our founders really saw is that even though we're online, we are going to show you that we do have a building in Claremont that you could come to if you wanted to. And we do hold events at that building, we will have our faculty in that building, we will have some students in that building, whether they're local or they want to come for a convention. So, it is a legitimacy factor. If you're going to operate as a 21st century online university, you want to have a physical location that speaks to that goal, that you're going to have high tech stuff going on. The point of our university is that we live by the golden rule, treat others as you want to be treated. So, the building will be dedicated toward communicating that we're going to be working with the community, that we'll have areas for other organizations to hold events and so on. We want to be part of our local community as well as part of the online community.
SocratesPost: How do you interact with prospective students?
Joe at CLU: We generally don't meet prospective students face-to-face. Occasionally, we'll have a local student pop in randomly. For the most part as an online university, our students are looking for online communication. Very rarely do we have somebody call thinking that we offer on-ground courses. All our communications that go out say we're an online university. We're working with adult students who already have their bachelor's degree. So, these are people who've gone to work, they're in a specific career, and now they need to get a graduate degree to pair with a professional situation, maybe they're looking for change, but our students are working and have familial responsibilities or financial responsibilities, and so when they come looking for the flexibility of online learning, they couldn't do it any other way. For prospective students, we're speaking to students across the country and they're looking specifically for the online environment. Many times, we'll communicate with that student through email, or text message, or a phone call, or through chat. We do want to eventually talk to that student, find out what their goals are, why they want this specific degree. We are looking to maintain a high-quality institution as well, so we don't typically look at students who just want to get a degree for the sake of doing something. We're looking for intent; we're looking for the student that's trying to accomplish a goal.
…we don't typically look at students who just want to get a degree for the sake of doing something. We're looking for intent…
SocratesPost: What do you mean by you're "looking for intent?"
Joe at CLU: I will say that Claremont Lincoln University is also a dedicated, social-conscious education. And what that means is we're very aware of the student debt crisis. All our degrees are priced at a point where the student could afford it; we make education accessible. So, we're looking at the students for the merit of what they're currently doing, versus the weight of their undergraduate degree. For example, a student with an undergraduate degree that maybe has a 2.50, maybe they really went through the college experience. That student goes out and gets a job and now its seven years later, they've had kids, they have financial responsibility, they're now a completely different person. So, to hold them hostage on an undergraduate GPA feels less important than what they've done over the last seven years. Maybe they've gotten two promotions, they're overseeing a department of 15 people, they're going to be a student that has some serious positive factors, So, we look at the students based on what they're doing now more than we do anything else.
SocratesPost: It sounds different from what you'd expect from a traditional undergrad or grad degree. Are you looking for more work experience?
Subscribe to read more from Joe →
Here's a preview of the rest of our conversation! Subscribe to read the rest and support our ad-free newsletter.
…there's a changing landscape within higher education… There are fewer students entering college overall than there has been… and there's an increased competition of applicants.
SocratesPost: How does technological progress affect the way we talk about college and career goals?
SocratesPost: In the past, people would discuss going to college with their school guidance counselor. What do people do now?
SocratesPost: What sort of marketing to you use to attract students?
SocratesPost: What are the main reasons students do not end up matriculating even though they were accepted? Do you track that?
SocratesPost: How involved are you in evaluating applicants?
SocratesPost: I saw your retweet from Claremont Lincoln's Twitter page. It was a quote that you said at one point. "A degree with meaning is still desirable, but higher education must innovate." What does that mean?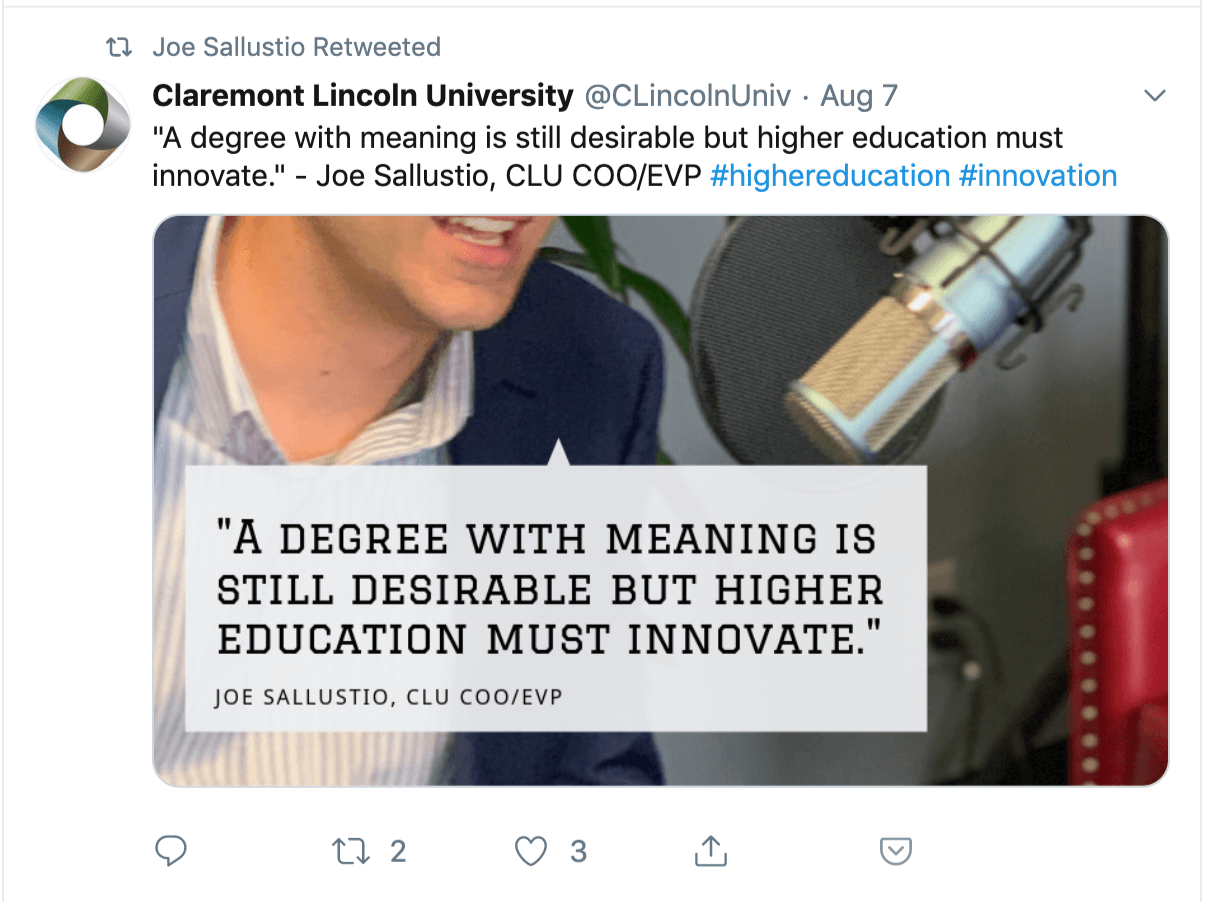 Stay tuned for the rest of our interview with higher ed chief, Joe!