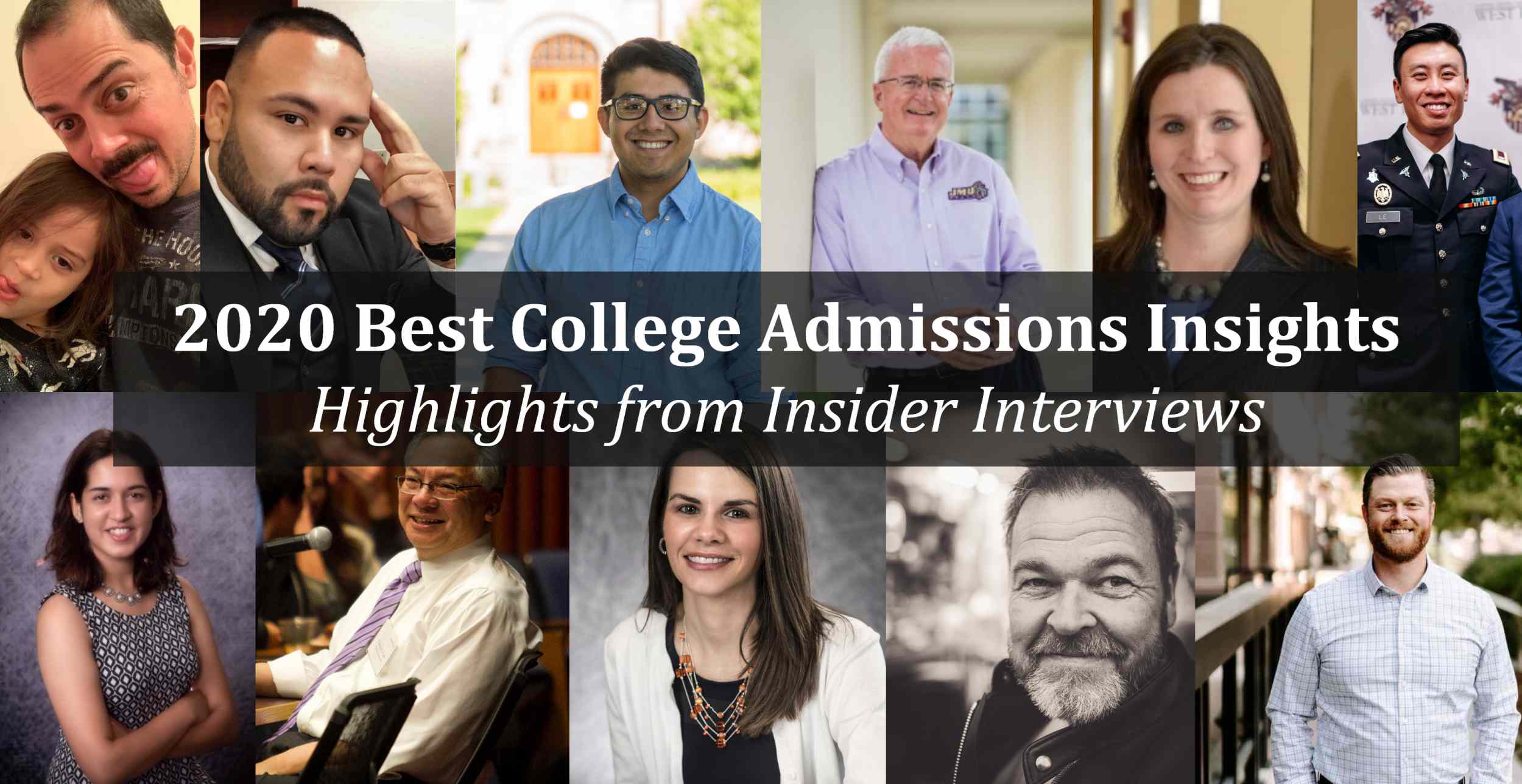 In 2020, SocratesPost interviewed 33 admissions insiders representing top schools like Berkeley, Duke, USC, West Point, University of Illinois-Urbana Champaign, University of Rochester, Carleton, and Lewis & Clark.
Our one- to two-hour conversations with admissions deans, admissions officers, and financial aid directors typically resulted in over 10,000 published words of wisdom for you.
We hoped you'd sink into these words and use them like maps the way American expeditioners did in the 1800s.
You, too, are an explorer, carving your own trail to college through the wind, thorns, and the occasional, unwelcome sight of another pioneer seemingly trailblazing ahead of you.
Each insider interview was meant to be your North Star, your Lewis to your Clark, your raft in whitewater, giving you dependable direction when you feel lost.
Those thousands of quotes from the admissions decision-makers bubble with insights into unanswered college admissions questions we've all asked:
What if I don't have a passion? How can I even apply for college?
What are admissions officers really thinking when they don't see SAT scores?
My child messed up in high school. What should I do?
Why in the world are the best students denied admission and others admitted?
How much do word choice and diction matter in college essays?
In this final issue of 2020, we've curated the highlights from this year's insider interviews. We hope this collection will boost you into 2021 with clarity, fresh ideas, and the strength to keep ascending.
Click for the students' edition
Click for the parents' edition
Students' Edition
If you don't have a passion, it's okay. Explain why college is important to you.
A dirty little secret is that even adults are still trying to figure it out. So if you're 17 and wondering what's wrong with you because you can't pinpoint an activity worthy of you voluntarily waking up before dawn to do every day, weekends included, you're normal. That's okay.
Alex Cardenas, an admissions officer at Carleton College with a 18% acceptance rate, gets it. Thousands of successful applicants don't write about a passion, but instead articulate their reasons for wanting to go to college, particularly at Carleton.
"When they aren't able to share a passion, I love to hear about why they want to further their education. Why they want to go to a small liberal arts college specifically instead of a trade school, for example. What about going to a college excites them?" he said.
If you already have a passion, you're lucky. But you don't need to invent a passion just for college. In this part of the interview, Alex empathized with the high schoolers who've had to work at unexciting jobs and didn't have time to explore passions.
Maybe Covid interrupted your grand plan to finally pick a passion this year. That's okay.
In 2021, use your words to prove that you know yourself well, even if it's unrelated to a passion. Your reasoning, if well-developed and researched, for wanting to go to college, and that specific college, can be just as impressive as 500 words on the joys of collecting antique lampshades.
It's okay to make mistakes in the face of challenges. Show your maturity by learning from them and striving to improve.
That D+ in AP Chem, failed run for student body treasurer, and second-to-last place race time probably make you want to crawl under the covers and never come out.
Those challenges aren't unique, but your reaction and takeaways are. That's the part admissions officers care about.
Tuan Le, an admissions officer at West Point (U.S. Military Academy) with a 10% acceptance rate, emphasized the importance of reflection as a sign of maturity:
"Definitely a sign of maturity, as far as being able to reflect and understand what had happened in the past. This is just an example. I'm thinking specifically about overcoming a difficult obstacle and if they can think through what happened and what they're able to learn from it. Maturity is just being able to see what went wrong and then what they could have done better and how they can apply it for future applications."
The military academy, of course, values mature students because the responsibilities of warfare and national defense require seriousness and dependability, two signs of maturity.
Was Covid particularly challenging this year? Were you ready to set a school cross country record only to have your season cancelled? Did your dream colleges cancel in-person tours? Your boss let you go from your favorite summer job?
Your college application, then, should focus not on the cancellation of these important, long-awaited events, but how you overcame the disappointment and gap in your schedule, what you learned, and how you'll apply it to your future in college and beyond.
You are multifaceted, but choose a personal theme. You'll help admissions officers grasp the most relevant aspect of you.
Admissions officers have some crazy deadlines. They have record numbers of applications to read in a matter of weeks.
They review applications like you probably scroll through Insta: quickly and with a dash of judgment.
If the combination of your recommendations, essays, interviews, and major choice sings one coherent song about who you are, then you'll catch the attention of your reader.
Megan Zwilling, an admissions dean at University of Illinois Urbana-Champaign, doesn't like patchy snapshots of her applicants' personalities and goals:
"My big pet peeve is a student who says they want to go into journalism, but spend their entire essay writing about their soccer team."
In such a short amount of time, an admissions officer  like Megan won't be able to imagine this person who depicts herself on paper as a "little bit of everything": an aspiring journalist who talks about her soccer team, whose coach talks about her As in math, whose counselor writes about her eagerness to volunteer tutoring history to kids.
And when they can't quickly connect the dots and envision this individual on campus, admissions officers might be pressed for time, stamp a "no," and open the next file.
There's nothing wrong with variety. But choose a theme. If you present just a connected theme among your accomplishments and goals, they can start envisioning you on campus instead of waste time trying to figure out who you are.
You might be an aspiring veterinarian and musical-lover on the swim and equestrian teams who, now that sports competitions are cancelled, focus on nursing injured horses and tutor your younger swim teammates in biology. Your clean theme: an aspiring veterinarian who heals horses and knows biology like the back of her hand. That's a strong brand that'll etch an image into the mind of your reader.
Covid might have forced you to spend more hours pursuing fewer activities. This focus on just one or two extracurriculars means that with a bit of self-reflection, you can be one step closer to a coherent, strongly-themed personal brand.
Think of college admissions like the making of a choir with different voices. Just because you're a good singer doesn't mean you'll be invited.
"I usually read personal statements first because I was mainly interested in admitting human beings, not numbers. Plus, it was important that those human beings be able to articulate their voice.  The analogy is that I sought to build a choir instead of a class. A great choir requires many voices. I wanted my choir to have 280 distinct voices. Strong quantitative factors are important and carry substantial weight, but they alone were never dispositive," says Edward Tom, a retired 30-year admissions veteran at UC Berkeley.
College admissions is not about choosing every candidate who passes the average or minimum criteria.
Still, you guys are shocked when your peers who match these requirements don't get in.
Admissions deans choose students like they'd paint a color wheel, ideally with only one student of each distinct hue.
If you're wondering why being a Top 10 New York State's high school basketball player applying to engineering didn't get you a "congratulations" letter, it might simply mean that a Top 10 player in Alaska applied to the same major. But she looked more "distinct" merely hailing from the tundra!
Every year, the painting of the class looks different. No one, not even the admissions officers, knows what colors and hues will be available for them to choose. No school  can predict the unique traits and experiences of future applicants.
How do you "stand out from the crowd" when the crowd looks different every year? Focus not on how you might compare to your peers' accomplishments, but on growing your list of colleges to include all programs and environments where you'll thrive. The more options you have, the more likely you'll find a place that sees you for the unique color you are.
In 2021, make relationships with admissions recruiters at those schools. Pick up the phone to ask questions and step in when your parents offer to contact them on your behalf. This could be your distinct hue without the pain of comparing yourself to your peers.
If you don't get in, it's not because you were bad.
"All the campuses communicate with their application data. Obviously everybody wants a good yield at the end of the day, so that's really where that data comes in to see, 'Okay, historically, where have the 1s and 2s gone, where have the 3s gone, where have the 4s gone?' All the campuses communicate and say, 'Okay, I'll offer this offer to our 2 students, but then we know they will probably go to a certain UC over the other,'" Ria Jagasia, a UC Santa Cruz admissions officer admitted.
Why would someone get into UCLA and Berkeley, the two most selective UCs, but denied from UC Riverside, a less selective campus?
This happens a lot more than you think. And it isn't because the candidate was unqualified for Riverside.
It's simply a numbers game to maintain the school's reputation. The more admits who commit to attending, the better the college looks in the rankings.
So if you don't get into a school, whether it's a UC or another yield-concerned school like Tufts, pat yourself on the back and applaud yourself. They thought you were too desirable for them.
2021 makes admissions offices nervous because they can't predict how Covid might slash their yield rates. Admits might decline offers of admission if travel remains restricted or if remote classes ensue.
If you want the best results, go into 2021 identifying schools that care about yield. (Northwestern, for example, is tired of losing admits to Stanford and Yale and wants to find those souls who truly bleed purple). Apply early or otherwise demonstrate interest through attendance at virtual events, communication with admissions, or a strong Why This College essay.
Parents' Edition
How can I send my kids to college and retire happily?
Ask for sample financial aid letters before your kid applies. It'll show a college's transparency.
College will change your child's life, but it's also a business.
Expect the same transparency as you would from any service provider. If you would expect your plumber to provide accurate quotes, explain his pricing, and charge you reasonably, expect the same from your child's college.
"Any school you're thinking about going to…Ask them to see the financial aid letter; see an example of it. Why wouldn't they share that with you, right? So ask them to see it. The biggest mistake people are making is not getting indoctrinated young enough," says Kevin N. Ladd, COO of Scholarships.com.
The mainstream news media (not us, we hope!) has perpetuated this upside-down power dynamic: "hard-working families should kowtow to college admissions because they are so selective. Anyone who gets accepted and doesn't attend, no matter the cost, is crazy."
But you're the one with the power to pay them. And for the schools without endowments, you're keeping them in business.
Because you're the customer, colleges should want your business. They should earn it by helping you understand their breakdown of costs, possible tuition changes, discounts and scholarship programs — and they should do so graciously.
Kevin's advice puts the power in your hands to train yourself on buying something as expensive as a house — but seems to be treated as an afterthought. Many parents wait until the kids' acceptance letters arrive to start looking at financial aid packages.
They realize too late that these non-standardized aid letters are riddled with jargon and hidden meanings.
Asking to review sample financial aid letters, even ones that don't reflect the same financial circumstance as your family, will at the very least familiarize you with the vocabulary.
You might even find that after reviewing a handful of them, you'll be able to distinguish the transparent colleges from the shady ones.
In 2021, you won't be alone in prioritizing finances. Covid has changed most families' bank account balances, for better or worse. College financial aid offices should empathize and a simple request for sample aid letters should not alarm them.
Evaluate alternatives to the 529 college savings plan. Just because it's popular doesn't mean it's right for everyone.
"529s are counted as a non-retirement asset, and then when you start taking money out of the vehicle, it is counted as student income or sometimes as untaxed income…I just think that the pros don't outweigh the cons. You pretty much have to use it for higher education. If you don't, the IRS penalizes you," says Andrew Hathaway, a Colorado-based college funding specialist and wealth manager.
Andrew, who equates asking financial aid officers for best tuition rates to asking the IRS for tax loopholes, has helped families restructure their finances to better pay for college.
While the 529 college savings plan is popular, it can come with downsides such as counting against need-based aid.
In 2021, if you're still considering savings vehicles for your younger kids' college funds, research other options that have worked for others. You might even choose to work with a wealth manager or college funding specialist and it won't mean that you're incapable or unknowledgeable. Quite the opposite.
(We're not affiliated with Andrew Hathaway's college funding organization, by the way. He's just a smart professional with sharp insights. We amplified his voice because his advice could help you.)
How to actually be helpful during college apps
Help your child be "seen" by other adults who matter: teachers, counselors, and coaches.
As a parent, you can't write your kid a recommendation letter for college.
But you can help your kid brainstorm ways to be recognized by the adults who can: school teachers, counselors, coaches, supervisors, etc.
"Do not worry; do not dwell. We are in uncharted territory entering the next admissions cycle as a result of Covid-19 and understand that the opportunities that you may previously have may not have panned out. We'll consider this. While you may not be able to ascertain some of these experiences or academic opportunities, leveraging your letters of recommendation and previous experiences are what we'll value during the review process," says David Vasquez, USC admissions director.
In Covid times, letters of recommendation matter more than high test scores and long activities lists. 25 out of 30 students might earn an A in online  biology. Just looking at a transcript, an admissions officer wouldn't be able to distinguish these 25 students.
But the biology teacher words hold significant weight when she says that only your son attended every online session, turned on his microphone to ask questions about the material, and offered to help her organize class on Zoom.
Whatever your child is doing — learning remotely, redesigning extracurricular activities, helping out at home — it helps when teachers, counselors, coaches, and supervisors can see these efforts and eventually vouch for your kid as a reference.
But without taking the initiative to communicate to them what he's doing, they'll have no way to witness his efforts within the four walls of his bedroom.
This doesn't mean you should jump to calling your son's teacher and gushing about how hard he's been working. It's an invitation to help brainstorm ways to, on his own, share his ideas, work progress, results, and growth with those adults.
In 2021 and beyond, words of affirmation from these individuals, particularly vouching for your child's ability to overcome obstacles, will add significant value to his application.
With every activity your child is involved in, ask her these three questions
When team sports and performance arts were cancelled, group volunteer trips scrapped, your kid had to find new extracurriculars to do.
Or, she had to pivot.
Pivot just means that she stayed committed to the activity, but reinvented it to fit Covid restrictions.
Perhaps she stuck with soccer, but instead of being engaged in the traditional way of practices and games, she coached younger teammates one-on-one, wearing masks.
She found a creative outlet to continue practicing her sport while seeing the new opportunities Covid brought.
But what matters most to colleges isn't only that the pivot happened.
It's also the three questions that follow:
"We are not just looking for a list of activities.  Instead, we are looking for the reason you are choosing a particular project, volunteer role, or hobby – why is it important to you, what has it taught you, and how can you contribute to your future classmates through this activity?" says Rebekah Lewin, dean of admissions at University of Rochester.
In 2021, as your child explores new activities or reinvented ways of the old, ask them why it's important, what she learned, and how these lessons will better her future college. The clarity
Am I worrying too much and being too hard?
Give your son or daughter space to choose a class or two without considering GPA. Admissions deans want to see that your child enjoyed high school without doctoring a GPA.
"Some of the high schools have told me that they can't keep some kids in the choir and singing in 11th and 12th grade because it's a non-weighted course and 'it would hurt my GPA.' Some schools have actually made 11th and 12th grade music courses an honors course so they get a little bit of inflation. Why are we doing that? High school is supposed to be a time to challenge yourself, but it's also supposed to be a time to enjoy. It's a developmental time where you have to have more than just a focus on studies. Some school districts are now considering limiting the number of AP courses that they allow you take at one time, because they're seeing unbelievable stress levels," says Michael Walsh, dean of admissions at James Madison University.
Michael's an example of an admissions dean who wants to see that students still have fun.
And no, fun is not expected to be curing cancer, stepping on the moon, or ending genocide.
It's about not being afraid to explore and develop without obsessing over GPA like it's an obnoxious speedometer telling you to slow down or speed up.
Encouraging your kid to take a class or two without thinking about the GPA, just learning, might even rejuvenate her. As Michael saw, high schoolers experience so much peer pressure and parental pressure, that even something as enriching as a music course can be seen as off-limits because they can't get a 5.0 in music.
Admissions officers value students who've been able to pivot, but also find some rays of positivity despite a pandemic. In 2021, you can help your child find that ray by encouraging learning without constant GPA calculation.
Parents, it's okay if your kids don't get into their dream school because a million and one paths exist today.
2020 has generated countless new industries, from education technology to medical care to home office devices.
In 2021, we'll see even more new opportunities open in response to a world we can't quite anticipate. Your child might even be the inventor of one.
So if your child is awaiting an admissions decision in 2021, it's okay if she doesn't get into her dream school.
Elvin Freytes, a former Columba University admissions officer and a father himself, gives you his best tips, "I tell those parents, 'Relax. There's always a brighter side.' Even if their kids don't get in, that's okay, they'll go somewhere else. And if they don't go somewhere else, then they'll figure out a different path, and there's so many different paths now, which is fantastic. It's ultimately what they want to do. How do they be happy? By finding something they're passionate about. Surrounding themselves with people who love them, good people who like them and friends and family–that fantastic support system that helps them progress as a professional and as a person. That's ultimately what we want, right?"
In 2021, as you have always and as fellow parent Elvin says, love them, support them, get excited for the million and one paths that didn't exist before 2020 and…relax a little.